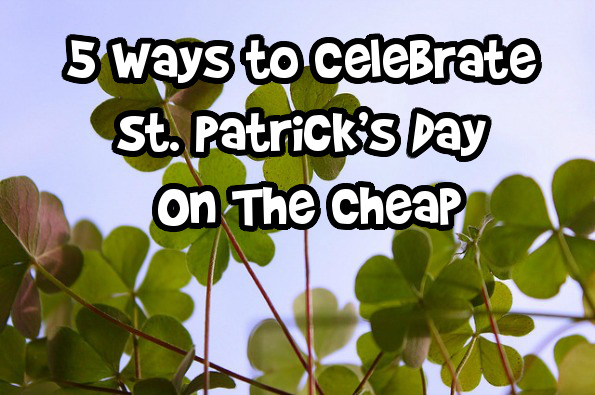 With St. Patrick's Day around the corner, it is time to think green. No need to shell out tons of cash, this holiday can be all about fun, a little magic and time with family and friends. Save your leprechaun gold and check out these five ideas to celebrate St. Patrick's Day on the cheap.
Play Irish Music
Get yourself in the spirit of the holiday and turn up some Irish tunes. You could go the classic route and listen to Irish folk music that includes lots of penny whistles, flutes, fiddles and drums. If you do not have any Irish music in your collection, check out your local library for CDs. Free online music streaming services such as Songza also have Irish music channels you can listen to on your computer that have a mixed playlist of traditional and modern music.
If you are looking for a more modern take on Irish music, I recommend checking out my favourite Irish rock bands Flogging Molly or Dropkick Murphys. Billboard.com has a list of the Top 10 Irish Musicians of All Time. Some of these fantastic artists might already be in your own playlist such as U2, Van Morrison, Snow Patrol, The Cranberries, The Script and more. Make your own playlist and you will soon be jamming to some great tunes. Best of all? This fun is free and you may find you expand your playlist.
Build a Leprechaun Trap
Add a little Irish magic to the holiday. This idea is mostly fun for the kids, though there were some cutesy times when my husband and I were dating that I might have insisted he play along. You can set up any box or laundry basket on a ruler to be your trap or use any container from the recycling bin. If you need inspiration, Design Dazzle has an excellent post with various homemade traps. Bait your trap with something gold or a few coins to ensure the leprechaun will stop by. Overnight leave evidence of the leprechaun such as chocolate coins, a funny note or even tiny green leprechaun foot prints. You could also create some mischief such as turning your milk green with food colouring. If you have a recycling bin and basic craft supplies, then this activity should be free.
Host An Irish Beer Tasting Party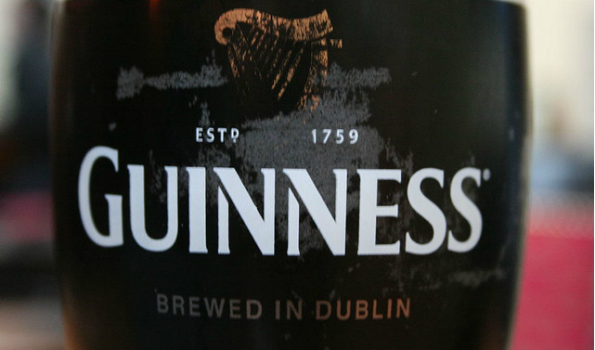 Instead of hitting the bars, have a little gathering at home instead. You will spend a fraction of the cost of hitting a bar all night. According to stats on Fox Business, the average bar tab on St. Patrick's Day is $35.57.  If you have a significant other, then the two of you just spent $71.14. Let's say you go out with a few friends and there is a group of six. As a group, you just spend $213.42 if you are similar to the average St. Patrick's Day partier.
Hold a little beer tasting in your house for a fraction of the cost. According to The Beer Store you can pick up a six pack of Guinness for $12.95 before tax. Invite your group of six to your house and have each guest or couple bring an Irish beer. If you picked up four different six packs of beer, your group just spent roughly $51.80 for everyone to drink.
Showcase the different beers, allowing each guest to taste and vote on a winner. Plus you can drink delicious Irish beer, rather than watered down light beer turned green for the holiday. You will also be able to hear your friends over your cool Irish music playlist. (see above!) If you need further convincing to skip the green beer in favour of a more traditional Irish brew, check out this great article from The National Post that talks more about St. Patrick's Day festivities in both Toronto and in Ireland.
Talk Crafty To Me's blog has a great showcased beer tasting party. The post includes a full set of free printable beer scoring cards and an elaborate set of free themed party printables. Use as little or as much as you like from this kit that is already themed for St. Patrick's Day.
Have a Green Meal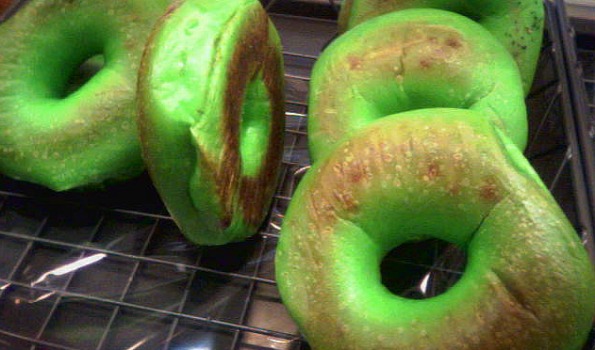 When I was a kid, a local bakery would sell green bagels for St. Patrick's Day. My mother proudly served it to me as a treat one St. Patrick's Day. Unfortunately, I would not touch the bagel.  I insisted that bagels were not supposed to be green, and that the bagel must be moldy. My poor mother tried to explain it was only food colouring. I stubbornly refused and was certain this bagel would make me ill.
I am all for fun green food now, but please make something tasty. Consider serving already green foods like celery, cucumber, broccoli and green grapes. If you like spinach you could make a spinach pasta, serve Greek spinach pie or make a spinach quiche as the centerpiece of your meal. If you need some more green food inspiration, the Huffington Post Canada has a nice list called Green Recipes:St. Patrick's Day Recipes That Won't Make You Puke that should help provide more inspiration.
You could also consider making some more traditional Irish food such as this list also from Huffington Post Canada of St. Patrick's Day Recipes: 17 Traditional Things Irish People Actually Eat.  Top it all off with some Guinness or some easy Green Shamrock punch from Home Cooking Memories, an easy mix of lime sherbet and lemon lime soda. Think you could go out for Irish food for cheaper? Expect to pay at least $30 per person, such as the Irish breakfast being offered at O'Reillys Pub in Newfoundland.
Attend a Parade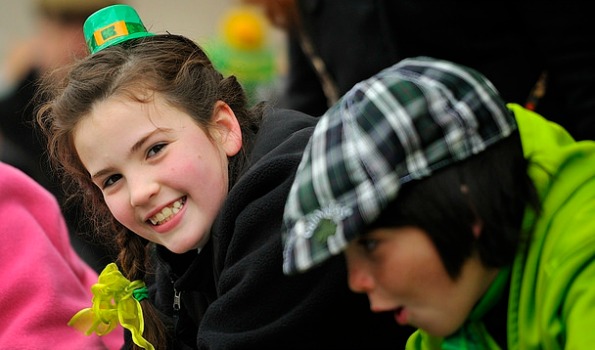 If a parade is happening in your town, bundle up and enjoy. With February hitting record cold temperatures, the fresh air and festive street are sure to lift your spirits. Best of all, parades are free entertainment with no hidden costs to enjoy. They also often come with a little free swag thrown to the crowd, especially if you have a kid you can bring or borrow for the day. Wear something green to add to the fun. Find a St. Patrick's Day Parade from this great list at Celebrating 2015 St. Patrick's Day.
Bargainmoosers, what are your plans to celebrate St. Patrick's Day?
(Image Credit: Judith Doyle, Cody Hinchliff, David Nestor, Diana Robinson)