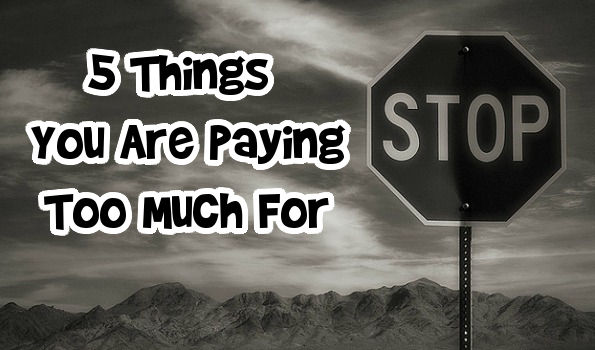 If you are looking at ways to trim your monthly budget, you may want to consider some of your regular habits that you may not think about very much, but are costing you money. The good news is the items I have noted below should fatten your wallet without tons of extra effort. Save yourself some cash by simply changing up your regular routine.
Bottled Water
Unless you live in a place with a tragically terrible water crisis, bottled water is an expense you can cut out of your budget. According to an article on CBC.ca, three out of ten Canadian households are paying for bottled water and contributing to the $170 billion dollar industry. The same article gives a comprehensive comparison between bottled water and tap water, and from most angles, tap water comes out as the clear winner for a frugal Mooser.
If you do not like the taste of your local city water, invest in a filtration pitcher such as a MAVEA filter pitcher or a Brita filter pitcher. There are many different styles and colours of pitchers to choose. Even with the cost of replacement filters, you will still pay pennies on the dollar when compared with daily bottled water consumption. I personally use a Brita filter system. Our city water occasionally gets rust in the water and I feel better knowing that a filter should take care of any rust particles if I did not catch the red colour right away. I also prefer the taste of crisp, filtered water.
Yard Work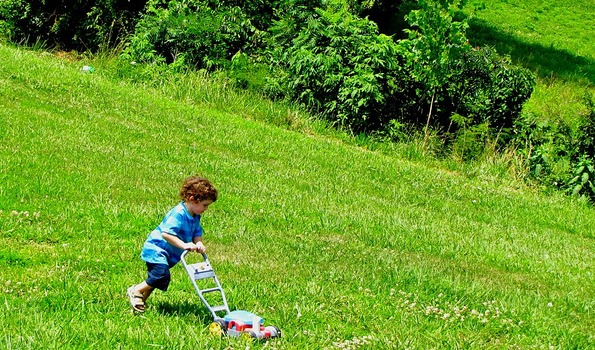 I have no doubt that the lawn company can make my lawn lush and green, but that expense adds up. According to Home Advisor, nationally across Canada site users reported spending between $100 and $575, with an average of $300 per year on lawn maintenance. (Note that this figure does not include snow removal.) This number will vary of course depending on your location, but you could purchase a small television for that price.
I have a small lawn and last summer I picked up an electric mower off a used items site, from someone who was moving out of the area, for around $50. I spent about $20 on grass seed in-store from Costco to re-seed our dirt lawn.  I traded a jar of homemade jam with my neighbour for her excess fertilizer. After the initial spring cleanup, I spent about an hour a week trimming and maintaining. We had a beautiful backyard all spring and summer last year, plus it encouraged the kid and I both to spend more time in the sunshine.
Items You Did Not Purchase
Purchasing an item you did not intend to purchase happens all the time. It is a simple mistake when the cashier accidentally rings an item twice or accidentally charges you for something that slipped onto the register. A quick scan of your receipt at the register will save you paying for extra items. Checking your receipts routinely will also ensure you do not spoil a deal by paying full price for an item that should be on discount.
When online shopping, most reputable retailers give you the option to review your order before finalizing payment. Check carefully that you removed any extra items you did not want or need. This also applies to restaurants, which will sometimes add extra items.
Lastly be careful with online retailers that keep your credit card information on file, especially apps. Not all programs have the same level of security for ordering. For example, a friend of mine received a package in the mail only a few weeks ago. Her phone had somehow pocket ordered a robot vacuum from Groupon, a mistake that cost her over $300.
Cable Television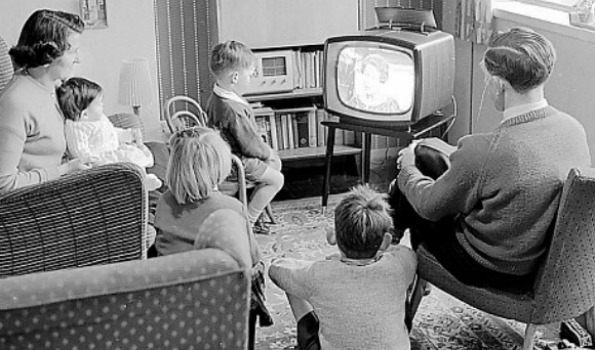 With the popularity of online streaming, many Canadians are considering cutting the cable cord. When I cut cable, I managed to save about $50 per month on my monthly bill and now only pay for a slightly bigger internet package. If you are interested in cutting the cord, you should check out this article written on the Best Buy Canada blog that outlines many of the current media options.
I know this one can be a tough one for some folks, but I think it is fear of the unknown. When we cut cable, my family found we had so many other new things to watch that we did not miss tuning in to live TV anymore. My husband convinced me to make the jump with this argument. "What is the worst that could happen? In a month or two, we call the cable company and turn it back on if it does not work?". He has a good point, and we have been cable free ever since.
International Phone Calls
If you have family or friends in another country, you may find yourself paying for international phone calls. I think this program's reputation precedes itself, but you can easily cut out those international phone calls through using a wee company called Skype. This program allows you to connect free via chat or voice call. Video chat is also available, and you can add in up to ten participants per video call from a computer completely free. You can also use inexpensive Skype credit and call cell phones directly or even set up a voicemail box. Skype credit currently runs $.007 cents per minute, and the lowest package increment is only $14. You can also download the free Skype app for tablets and mobile devices.
If you and your loved one both have Apple products, Facetime is also a great way to stay in touch and is pre-installed. I find Facetime quicker and simpler than Skype to use for video calls, and  is completely free. Facetime is so simple and user friendly that my great grandfather in Florida can call me on Facetime.
Bargainmoosers, what items do you need to stop paying for?
(Image Credit: Ferran Jordà, Robin Woltman, Paul Townsend)