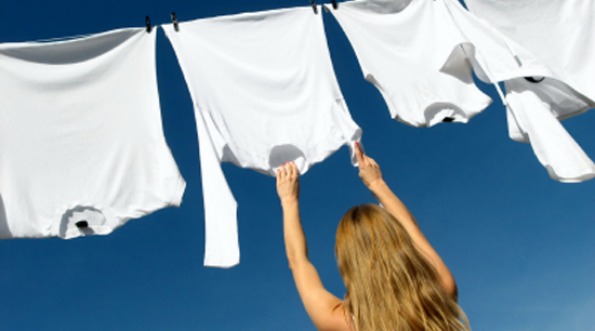 Washing clothes is something every family must do. However, there are ways to both
Save money in the process
keep your clothing looking better, longer
These are both important for how you look, and how much $$ you keep in your wallet.
1. Follow The labels
This is supposedly a no-brainer, but it isn't. If a clothing label says wash on cold and lay to dry, DO IT. Those rules are there for a reason, different fabrics need to be treated differently.
2. Wash with like colours / weight
Whites, darks and colours... those are generally my loads. You don't want your white t-shirt turning a light grey, or those jeans leaving blue dye on your lovely pale blue underwear. However, do not throw a delicate lacy blouse in with a stack of jeans. The jeans are heavy and will probably crush your blouse.  Sorting your washing is a mere act of pairing like with like.
3. Wash in cold or warm water - avoid hot
Cold water will help preserve the colour of your clothing. Using cold water will also keep your heating costs down. Pair the cold water with a cold-water detergent and you are golden. If something is extra soiled, let the laundry soak for a while.
4. Air dry when possible
Perhaps a hard thing to do in busy lives of today, but air drying your clothes either with an outdoor line or an indoor clothing rack is a good idea. It cuts the energy demands of laundry in 1/2, and can be good for the clothing as well. If you have pets, or are worried about lint... try doing an air fluff (no heat) in the dryer for 20 - 30 minutes per load before hang drying.
5. Put your clothes away properly
Don't leave your clothes laying around on the floor, and don't pack drawers tight where the fabric can get stretched. You paid good money for your clothing, make sure you take care of it!
Hey Moosers, what do you do to save on washing/drying costs?