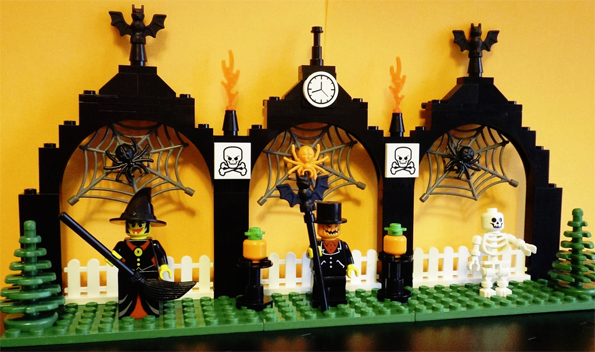 If you're looking for a fun and frugalicious way to spend a few hours having fun with the kiddos, why not make some Halloween decorations from LEGO!! Using the basic LEGO pieces that you may already have at home, you can create a wealth of Halloween characters, from ghosts to ghouls!
Now – remember that there is no RIGHT or WRONG way to build a LEGO model – you just have to use your own imagination and you can work wonders. Even if you don't happen to have the exact pieces that the makers use in these tutorials – just work with what you've got.
Here are some cool LEGO Halloween ideas for you to try out:
Halloween LEGO Ghosts
First up, this is a pretty basic tutorial to get you started – make your own LEGO ghosts! Here's a video from Youtube which explains it very well:
The tutorial looks like it uses some pretty basic pieces which are a staple part of any LEGO kit so this one should be very easy to do.
Halloween LEGO Pumpkins
You're going to need a lot of orange LEGO pieces for this one! While I am sure that you can work up a basic pumpkin shape yourself, you can also follow this tutorial from Youtube:
There are a lot more tutorials out there though, so feel free to do a bit of googling yourself.
Halloween LEGO Witch's Heads
You can also attempt to make a Halloween witch! Now, LEGO actually sell a witch's head which is shown in this video:
What I would suggest is that you make do with the pieces you have, and work on the above theme.
Halloween LEGO Bats
Want to make a LEGO bat? This one looks pretty easy! Here's the tutorial:
The bat uses a lot of basic black pieces.
Halloween LEGO Frankensteins
I don't have a video for this one, but you can get the idea here.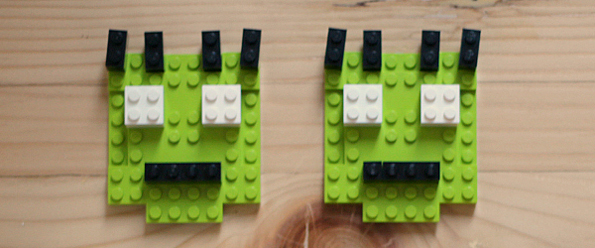 It just uses some basic green, black and white bricks. You can make it as little or as large, as plain or as detailed as you like!
Conclusion
Perhaps you'll have fun making these Halloween LEGO items. If you find that you don't have enough LEGO in your house, then maybe check out the deals on Amazon.ca and see if Santa might be popping some in his sleigh…
And if you make any of the above, we'd really love it if you share some piccies with us!
Do you have any more ideas for Halloween LEGO projects?
(Expires: never)