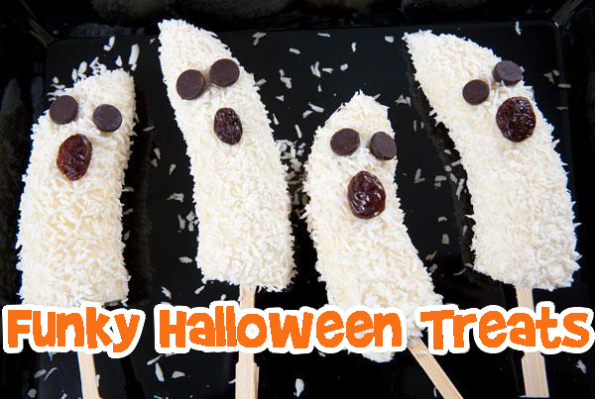 Halloween is almost here, and we are so excited! We have rounded up 5 Frugal & Funky Halloween Treats that will be so much fun to make and enjoy with the entire family. If you go to Halloween parties, then you can be the center of attention with your incredible treats you make. For the most part these Halloween bites are pretty simple and frugal to make. You may need a touch of creativity, but that's not so hard. Get together with your friends or kids and get the party started, we want to see how your Halloween treats turn out!
So here are the 5 Frugal & Funky Halloween Treats: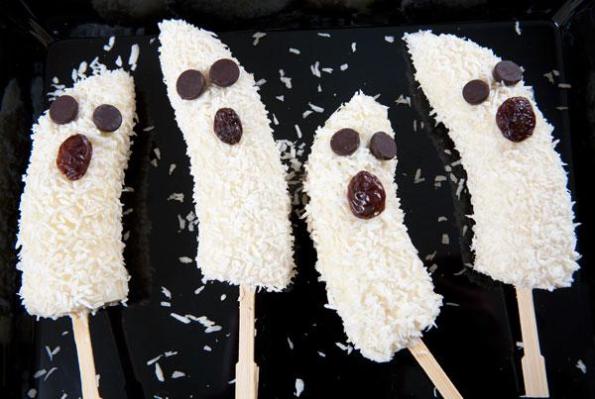 Here is an excellent opportunity to turn a banana into a spooky (and adorable) little ghost pop! You can use 3 bananas to get 6 ghost pops. You are going to cut each banana in half and then insert a popsicle stick into the flat end of the cut banana. Pop them in the freezer for a few hours while you gather the rest of your ingredients.
Here is what else you will need:
1 cup shredded & dried coconut
6 raisins for their mouth
12 chocolate chips for their eyes
1.5 cups of orange juice
Once you have left your bananas freeze for a few hours, you can take them out and dunk them in your orange juice. Then you can dunk them in your shredded coconut. Place your eyes and noise on each ghost pop, and voila!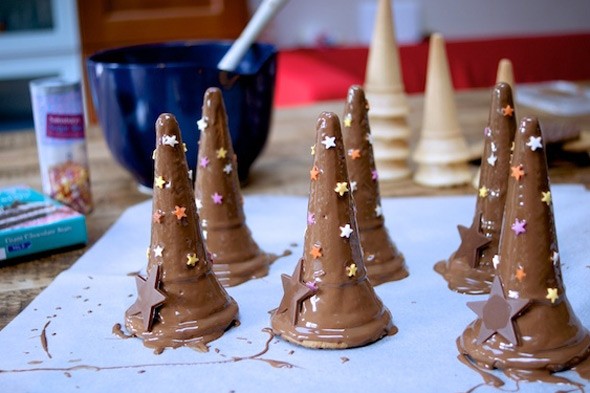 Who wants some delicious chocolate witch hats?! These spooky treats are a fab idea for you and the kids to make as a team. You can even have so much fun decorating them to make them each unique! Expect a lot of mess though. No baking is necessary.
You will need:
6 ice cream cones (pointed ones for sure)
6 chocolate digestives cookies
200g of milk cooking chocolate
sprinkles and sweets to decorate and fill the hats with
Take a baking sheet and line it with wax paper or greaseproof paper. Then fill each of your cones with treats and surprises and lay out the 6 digestive cookies. Carefully place your ice cream cone (full) on top of the digestive cookies so the treats can't escape.
Then you are going to break the baking chocolate into small pieces and melt it in the microwave. Stir it and put it back in to continue melting for a few seconds. Repeat until the chocolate is smooth and consistent. Once it has cooled a little, pick up each icecream cone while holding the digestive cookie on top and dip the cone into the melted chocolate. Carefully place them back on the cookie sheet as to not let any of the goodies out.
Then you can go ahead and have fun decorating! Once you are done decorating, stick your creations in the fridge on the cookie sheet to cool and harden. Enjoy!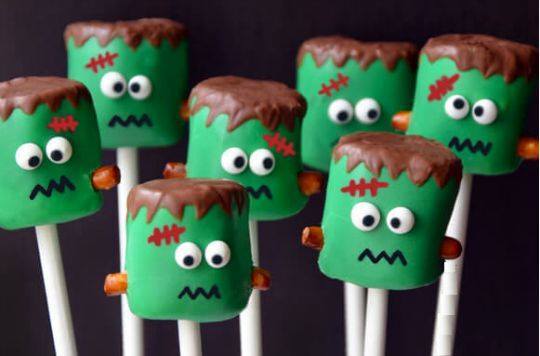 These look fab for even young kids to make and enjoy, with the help of a parent of course. The Frankenstein Marshmallow Pops only call for:
green candy melts
marshmallows
pretzel rods
chocolate chips
candy eyeballs
edible red and black markers
lollipop sticks
First you are going to melt the green candy melts in a small microwavable bowl. Different brands of candy melts will have different instructions, so just follow those instructions closely. Then you are going to push your lollipop sticks into each of your marshmallows. Once the green candy melts are melted, you can dip each marshmallow into the green solution. Make sure to turn them or swirl them around until they are covered completely. Then you will want to stick the lollipops into something that will hold them upright in the fridge. Maybe an egg carton, or a bowl full of rice? Leave them be until the chocolate has dried and hardened. This generally takes about five minutes.
While you are waiting, you can melt the chocolate chips in a microwavable bowl. Then once your pops are dried, you can dip the tops of each into the chocolate to form Frankenstein's hair. Take a tooth pick and form spikes in the hair. Then pop them back in the fridge to harden again.
Then once your pops have dried again, break your pretzel rods in half and stick them in each side of the marshmallow like the bolt that sticks out of Frankenstein's neck. Then you can use melted chocolate to stick the candy eyes on, and add any finishing details with your edible markers.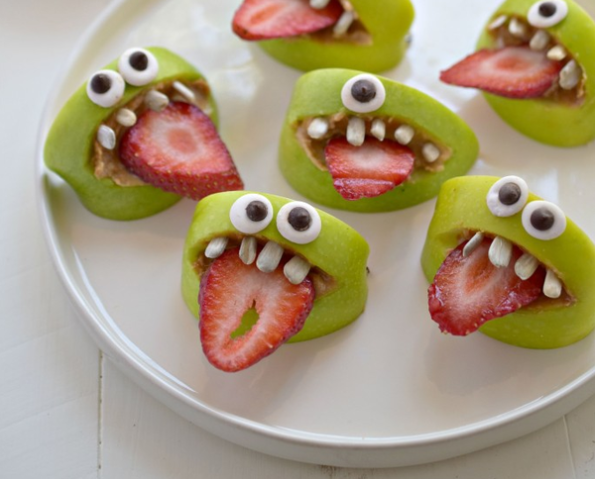 These have to be the most adorable (and healthy) Halloween treats around. Pretty much everything involved in these treats is good for you and the kids to eat. Well, except the candy eyes of course.
Here is what you're going to need:
2 green apples, cut into quarters
sunflower butter
32 sunflower seeds (without the shell)
2 or 3 sliced strawberries
1 or 2 candy eyes per apple bite
Then you are going to take each of the apple quarters and cut the middle out, to create a mouth for your little apple monster. You don't need to be perfect, the teeth and tongue will hide any imperfections later. Plus, it adds character!
Then you are going to coat where you just cut with sunflower butter. Place 4 of the sunflower seed on the top to act as teeth. You can get creative and add more or less if you wish. Then take a strawberry slice and place it in each apple quarter as a tongue. Then take your candy eyes and glue them onto each character with a bit of the sunflower butter.
Enjoy! Are they not super adorable?!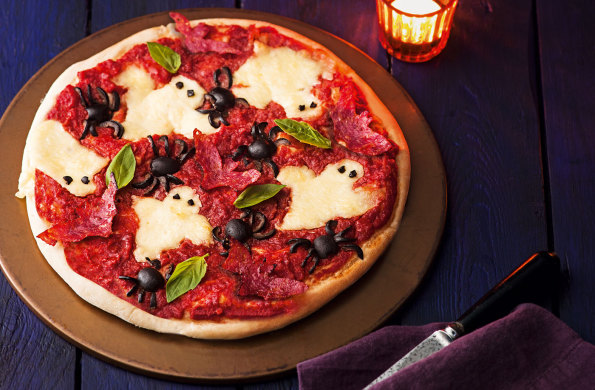 This has to be the best Halloween dinner, ever. Who would have thought to make Haunted Pizza? It will definitely take a little time and effort, but it will make the entire family happy. To make it easiest I would grab ready to go pizza dough from your local grocery store. Here is what else you will need:
black olives to make spiders
mozzarella cheese
pizza sauce
pepperoni
There are more detailed instructions thanks to Tesco, but I simplified them a little bit in case you didn't want to make everything from scratch. You are going to want to start by oiling your pizza pan so the dough doesn't stick in the oven. Also preheat your oven to whatever temperature your pizza dough calls for. Then, spread your dough out onto your pizza pan, leaving a raised 1cm around the edge for a crust. Spread your pizza sauce and add mozzarella cheese in the shape of ghosts. It will melt a little bit, so don't expect perfection here. Then you can cut your olives in half and make little spider legs out of the leftover halves. Also make eyes for the ghosts out of black olives. Place it all on your pizza and stick it in the oven. You can add other things as well to be a little more creative. Pizza always has room for creativity.
Moosers, what Halloween treats do you enjoy making with your family?