I'm not an overly crafty chick but dying Easter eggs is one of my favourite things to do with my kids each year. Not just because they get so much pleasure out of making them, but because I find them beautiful and love to display them around the house.
I'll be honest, I'm mostly a dye-kit kind of person. They are cheap and easy to use and you get great looking eggs every time, but this year I'm determined to skip the kit and try something a little different. Not sure which yet, but one of these five creative techniques using stuff you probably already have kicking around the house.
From the Pantry
Photo Credit: Kirstenrickert.com
Did you know you can dye eggs using red cabbage, red onion, or even tumeric? Just look how beautifully they turn out. This all-natural method takes some time—to get the deepest colours you'll need to soak overnight—but the muted, earthy shades are so worth it! Get full directions for the naturally dyed eggs you see above.
Shaving Cream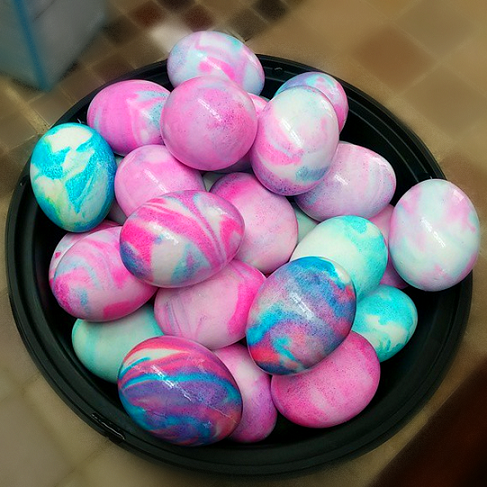 Photo Credit: craftymorning.com
How amazing are these marbled eggs dyed using shaving cream and food colouring? This is a project that's a little more involved (and messy) than simply soaking your eggs in dye, so it's one that the kids (and me!) would really have fun with. As an edible, more natural alternative, you can also make these using whipped cream! Get the list of everything you'll need, plus directions here.
Kool-Aid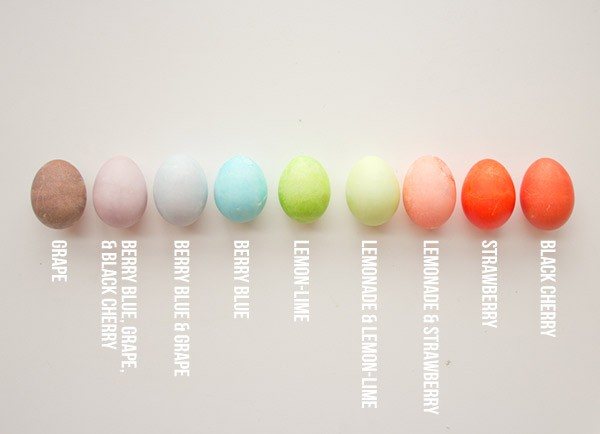 Photo Credit: lovelyindeed.com
I've known about dying with Kool Aid for many years and for some reason have yet to try it. After seeing the photo above, I'm pretty sure this is this is the one I'm going to try out this year! Look how amazing! I'm obsessed with those chalky, gorgeous colours and I can just imagine how yummy this will smell while in progress! Get tips on what flavours give you the best colours here.
Food Colouring Ombré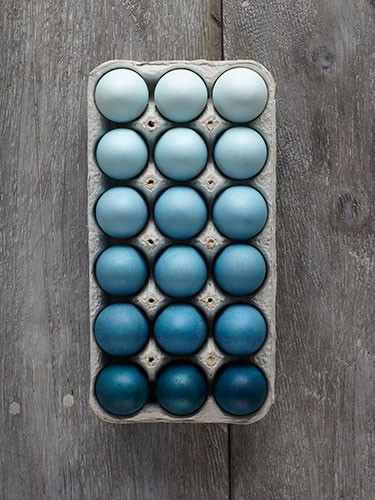 Photo Credit: countryliving.com
Achieving this stunning ombré design is all about mixing the perfect dye to water ratio! I so want to try this with a bunch of different colours—aren't they gorgeous? Find the ratios used for these blue beauties here.
Crayons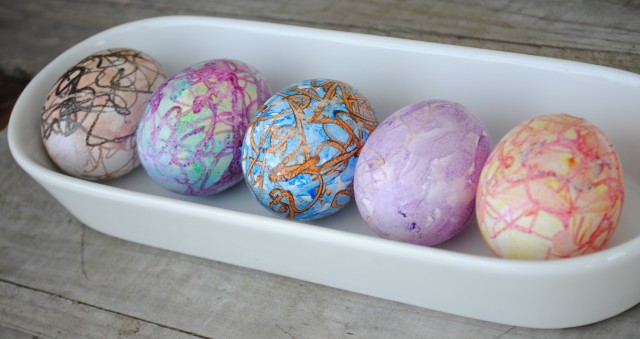 Photo Credit: jennaburger.com
Finally, if you have kids at home, chances are high that you've also got about a million crayons! This decorating method is so simple I'm kind of mad at myself for not thinking of it myself. Warm, freshly boiled eggs and a bunch of crayons and just look at what you can create! How much would this be for the kids? Get some tips and tricks for making these cool eggs here.
Am I missing any creative egg-dying methods, Moosers? Share your favourites with us!