While the chocolate advent calendars are adorable, sometimes we need to change it up. If you have a child that is sensitive to chocolate or maybe doesn't like chocolate (are they crazy?!), then you may find yourself looking for alternative advent calendar ideas that you can make yourself. There are plenty of ideas out there, and you wouldn't believe how fun and affordable some of them are! How am I going to pick just one to make for my son?!
So here are some frugalicious DIY advent calendars that are fun for both you and the kiddos: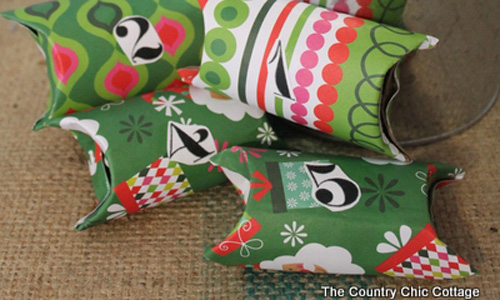 The Country Chic Cottagewrote about this fab idea to use toilet paper rolls and wrapping paper to make a Christmas countdown of your very own. I think this is the best idea I have seen. Start saving up your toilet paper rolls, we finally have a great use for them. You can use glue and fasten wrapping paper to your toilet paper rolls. Then once it is dry, fold in one end like the photo above. Insert candy or little toys inside and then close the other end. Don't forget to number them too! Then you can place them in a bin for your little ones to count down to the big day.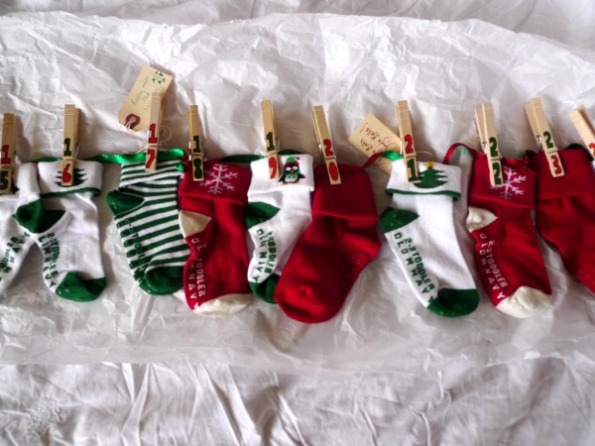 If you can get your hands on festive coloured baby socks, ribbon and clothes pins... then you can make this super adorable Baby Sock Advent Calendar that Jedi Craft Girl talks about. Simple put a little treat in each sock and clip them to the ribbon with a clothes pin. You can label each clothes pin with corresponding numbers to count down to Christmas and then hang it in front of your mantel or even on your Christmas tree.
The Envelope Advent Calendars are probably the quickest, easiest and cheapest way to make your very own advent calendar this year. You can glue them to bristol board or hang them on ribbon with clothes pins like the previous mentioned advent calendar. You can put candy inside, or even little cards that read things like:
Let's go to the park today!
Let's buy new winter boots today!
etc.
Sounds like fun, right? You can snag envelopes from the dollar store easily, and if you want to get more festive with it then you can always wrap them in Christmas wrapping paper before labeling them with the count down numbers.
Moosers, you can get super creative with these ideas. They don't have to be just for the kids. Why not make one for your hubby or have him make one for you? There are lots of romantic little things you can put inside and it will make counting down the days a little more exciting for you too!
Moosers, have you ever made your own advent calendar?