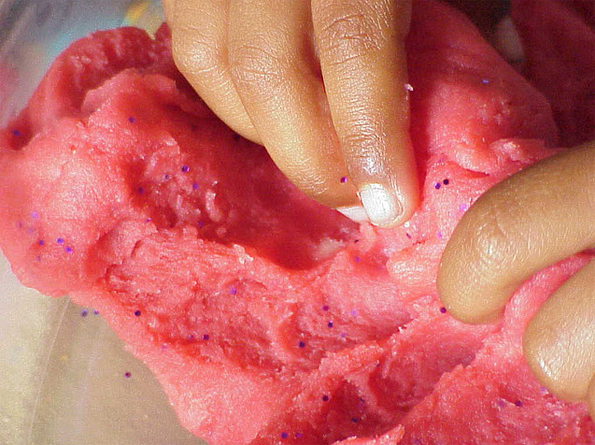 Here's a feisty and frugal little project that you can make with your young kids, as well as have hours of fun afterwards! It's a home-made play dough recipe, made with only TWO ingredients. Yes, I said TWO ingredients! And you don't even have to cook it!
All you need is one part hair conditioner and two parts cornstarch.
Make as much or as little as you like, just keep the proportions to those quantities to make your play dough.
You can use any conditioner for this recipe. You may not want to use your expensive Tresemmé brand… but you could pick up some sweet smelling fruity conditioners from the dollar store, just for this project. And different conditioners may vary in consistency, so you might need to add a little less or a little more as you are mixing it with the corn-starch. It'll be a bit of trial and error, but that's part of the fun.
And as for the cornstarch, this is a staple item in my kitchen cupboards, though not in great quantities. You should be able to pick some up the next time you are grocery shopping.
You could even jazz up the play-dough recipe with a few additions:
Food colouring for some funky colours
Glitter for some sparkly fun
Just make sure your little ones don't try to eat it!
And for storage, keep it in an airtight container. I don't really know the shelf-life of this play dough recipe, but give it a try and let us know how you get on, in the comments below.
(Image credit: Jessica Wilson)