(Western) Real Canadian Superstore Printable Coupon: Free $25 Gift Card!!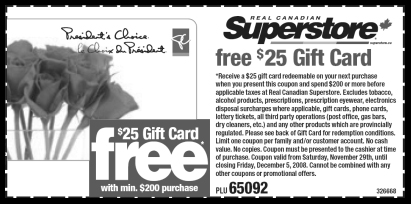 We've had quite a few Superstore coupons in the past, they're quite generous with giving them out. The latest one is for free gift cards, instead of just giving a flat rate discount.
If you spend $200 or more in-store, from now until the 5th of December 2008, they will reward you with a $25 gift card. You can then use it towards your next purchase at your local RCSS. To get this free gift card, just print and present the Superstore coupon. You could even give the $25 gift card out as a Christmas present? Might sound cheap, but I'm sure you know someone who would appreciate it…
I was thinking that $200 is quite a high minimum spend, but it is doable. I only live with my partner, yet I still managed to rack up a $180 bill in one supermarket visit last week. I stocked up on a lot of essentials that I had run out of, such as a few kilos of penne, a few kilos of spaghetti, quite a few cans of chopped tomatoes, paper towels…etc. It doesn't take long to add up to $200!