Swiss Chalet Canada: Order The Big Game Bundle For Only $55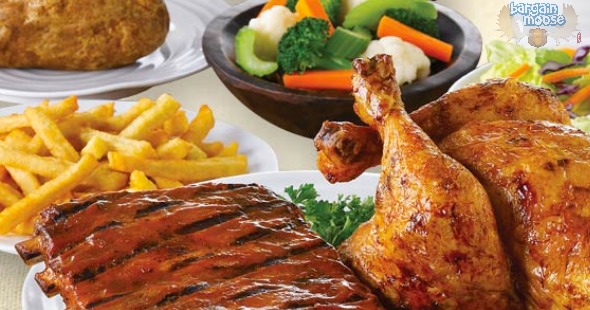 The Super Bowl is this Sunday, and I am sure the last thing you want to do is take time away from the big game to cook a meal. Swiss Chalet is here to help. Right now Swiss Chalet Canada has their Big Game Bundle for $54.99. This offer is valid until midnight on Sunday so be sure to enjoy it now.
You can choose between take out or delivery for this Big Game Bundle, but if you're occupied during the big football game then I am sure you will opt for delivery. It looks like spending $55 will get you a great portion of food for you and your family. This weekend you can honestly say, "the more the merrier". Here are the items included in the Swiss Chalet Canada Big Game Bundle for just $54.99:
1 whole rotisserie chicken
4 sides (your choice)
1 Chalet Dipping Sauze
4 dinner rolls
4 cans of pop (your choice)
2 appetizers (your choice)
1 pound of wings
I love that you can ultimately customize this offer to your family's tastes. When it comes to the side dishes, you can select four sides. Choose from fries, side salads, rice, or mashed potatoes. I love their poutine but unfortunately you will have to pay extra if you choose poutine or sweet potato fries from Swiss Chalet.
You can also select two appetizers for your Big Game Bundle. There are so many appetizers to choose from. I personally love their Chicken Spring Rolls - I order them every time I go to Swiss Chalet. Some of the other options include soup, salad, garlic bread, perogies and more. Unfortunately alcohol is not included, so tell your friends to bring their own beer.
Normally I would have ordered the Family Pak from Swiss Chalet. It comes with a rotisserie chicken, 4 rolls and 4 single sides as well as chalet sauce. This Swiss Chalet menu item would cost you $25 but is lacking quite a few of the items that the Big Game Bundle contains. Either way, I personally think Swiss Chalet is quite delicious.
There are some fine print details to this offer. Try to keep in mind that additional delivery fees may be applied. You can choose from any appetizer that does not exceed $6.99. You also can't use any other promotion or coupon with this offer.
(Expiry: 1st February 2015)