Starbucks Store Canada: BOGO Whole Bean Coffee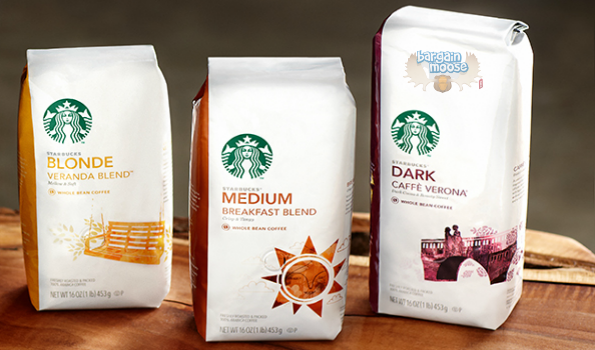 The Starbucks Store Canada is offering a BOGO offer on one-pound whole bean coffee.
I am not a coffee drinker, but every single other person in the world is. People ask me where I get my energy for three kids without having a coffee in the morning and I simply tell them - "I have no freaking idea". Anyway, for those who do love their morning, or all-day brew, Starbucks can be an obsession. If you love having Starbucks at home, now is the time to stock up with free 1-pound bags of whole beans with the purchase of another.
There are so many different flavours and roasts to choose from.
My husband, who doesn't particularly love strong coffee, would choose the House Blend, which is a balanced blend from South America for $15.95. He would go out on a limb and try the Guatemala Antigua, a more complex coffee, also $15.95 and get it for free.
My mother also loves her coffee and even drinks it black, so strong coffees don't offend her. She'd choose the Gold Coast Blend, which is a big, bold coffee blend for $16.95. I'm sure she'd also love the Caffe Verona, which would remind her of her recent trip to Italy, also $16.95, but she'd get it free.
Get free shipping on orders over $75.
(Expiry: 22nd February 2013)