Sobeys Switching To Air Miles - Use Your Rewards Now!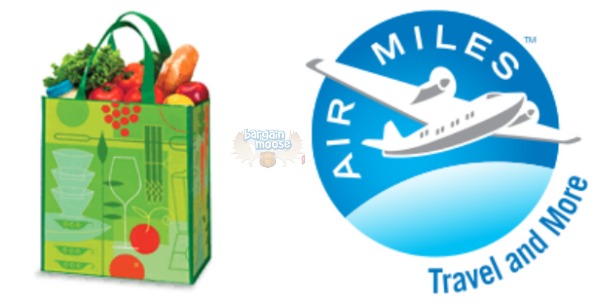 There has been a lot of talk since the announcement of Sobeys buying Safeway and the new changes coming with these stores. Some of the changes are good and some of them are not the greatest (in my mind at least). There are a lot of specifics with the new changes, so we wanted to give our Moosers a rundown of exactly what, how and when things will be happening.
What is happening?
Sobeys is switching their rewards program over to Air Miles (Excluding Ontario).  There will no longer be Sobeys rewards that will earn you cash back on your future purchases.  Right now, you get Sobeys points for every single purchase you make.  Additionally, you can get bonus points with in store deals such as 20x the points on specific items, or an extra 50 points when you buy two or more of something.  These points add up on your Sobeys card and you are able to redeem them for money at $5 increments. Personally, I wait until I have about at least $20 and redeem my points to get free groceries every few months.  I love this system.
Right now, 725 points will get you $5 off, 1375 points will get you $10 off and 2000 will get you $15 off your purchases.  The top reward is 12,500 points that will get you $100 off your groceries. This system is pretty great considering how easy and fast it is to rack up the points with bonus offers and regular shopping.
How will the new system work?
The new rewards system is very different. Gone are the days of getting cash back on future purchases. The new rewards will be Air Miles. You will need to link your Club Sobeys card to your Air Miles card and all of your points will be transferred for you. Your Air Miles card will be the only card you will need at Sobeys.
If you are not an Air Miles collector, I suggest you get an Air Miles card. If you do not get a card you will lose all of your points and you will not be able to get any type of rewards.  The only rewards that are offered at Sobeys will be Air Miles. You will no longer be able to use your Club Sobeys card.
When and What should I do?
Everything will be switched over as of September 12th 2014. You can link your Sobeys card to your Air Miles card anytime before then, but as of September 12th, the new system will start and you will be getting Air Miles instead of Club Sobeys Points.
You will get one Air Mile for every 14 Club Sobeys points. In my opinion, this is bad. Getting cash back is far better than the conversion to Air Miles you will get, so I strongly suggest you use up all of your points now while you can get the most out of them. Make sure to link your card to Air Miles before this date because if you don't (or if you do not have an Air Miles card) you won't be able to transfer your points. I was at my local store and they said a lot of customers will be transferred automatically if you signed up in store originally for your Club Sobeys card. For all of the people that lost their card and just use their phone number at the till, you will not be automatically transferred. Since Sobeys won't be doing it automatically for everyone, I wouldn't take the chance and I would do it asap.
If you link your card before September 12th, you won't get your points transferred just yet.  You can continue to save them and use them until the night of September 11th, so there is no risk by linking your cards earlier. All of these changes will be happening at Sobeys with the exception of Ontario Stores.