SC Johnston Coupons: Freebies & BOGOs (HOT Grocery Coupons!)
On the SC Johnston Canada website, you can sign up to get $20 worth of really useful grocery coupons. This deal is in their "family savings centre."
Here is the list of free grocery coupons: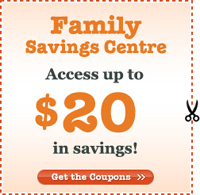 Buy any 2 Scrubbing Bubbles products and save $2
Buy any Scrubbing Bubbles automatic shower cleaner starter kit and save $5
Buy any Glade product and save $2
Try me free – Glade scented oil candle tins
Buy Windex multi-surface & save $2
Buy any Raid product and save $3
Buy any 2 Ziploc brand products & save $2
Buy any Pledge aerosol and get 1 free
Some of the coupons are really handy! In particular, the Glade free scented oil tins and the BOGO Pledge coupons are very useful.
Technical note: in order to get these handy coupons, you have to install some proprietary coupon software on your computer. While I really don't like it when coupon sites make you do that, it's a necessary evil sometimes.