Real Canadian Superstore No Tax Event & Free Slow Cooker!
Here's the latest gossip from the Real Canadian Superstore, as spotted in their latest flyer. It's a no-tax weekend! On Saturday the 5th and Sunday the 6th of September 2009, you won't be charged any nasty taxes on your items.
As you might expect, there are the usual exclusions, such as tobacco products, prescriptions, gas bar, lottery, etc. But if you were thinking of doing a huge grocery shop, or even buying a big-ticket item, this no-tax event could be the best excuse to do some spending.
In addition to these taxing events, there are a couple of coupons that could come in handy too.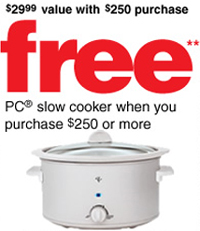 If you spend $250 or more, make sure to show them the coupon. If you don't want to print it from above, just pick up a weekly flyer, and the coupon should be in there too. The coupon is valid until the 10th of September 2009, and it will get you a free President's Choice slow cooker!