Pepsi & Tostitos Canada Rebate: Spend $20 and Score $20 in Free Product Coupons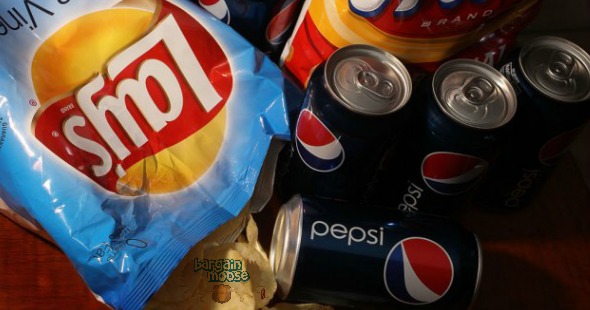 Pepsi & Tostitos Canada have an excellent new rebate offer. This Pepsi Buy $20 Score $20 rebate is back this year, and you won't want to miss it. You can purchase $20 worth of participating products and then use the rebate form to receive a $20 free product coupon booklet.
So here is the official mail-in coupon offer form for this Pepsi & Tostitos Buy $20 & Score $20 promotion. Make sure you print and fill out the form provided in the link above. Scanned copies may not be accepted and that would be a bummer.
Making use of this offer is simple. Head on over to your local grocery store and spend at least $20 on participating Pepsi or Tostitos products. These products include:
Pop like Pepsi, Diet Pepsi, 7UP, Diet 7UP, Mountain Dew, Dr Pepper, Crush, Mug Root Beer, Schweppes, Brisk and Gatorade
Snacks like Tostitos, Lay's, Doritos, Ruffles, Cheetos, Smartfood, Rold Gold, Munchies Snack Mix, Quaker Crispy Minis, Tostitos Salsa, Ruffles Dip
The participating products from the list above can be purchased in any size or variety. The items must be purchased before the 8th of February 2015 but you will have until the 24th of February 2015 to submit your rebate form. After that, you will need to be patient and allow up to 8 weeks for your coupon booklet to arrive by mail. You will be limited to one coupon booklet per address unfortunately.
All $20 worth of the products must be purchased in the same transaction to qualify for this offer. Then, take your receipt and circle each participating product. Once you have done that, fill out the rebate form with your name, address and any other required information. Slip both of these items in an envelope and mail it off to Pepsi/Tostitos 2015 $20 Super Bowl Coupon Booklet Officer which is at P.O. Box 13397 in Saint John, New Brunswick.
This is a great opportunity to stock up on some pop and snacks if you have any birthday parties coming up. Winter is also a month where my family spends a lot of time indoors watching movies. While pop and chips may not be in the best interest of your New Years resolution, snacks are always great for movie nights or little events. I am sure the free product coupons will be for the same products, so you are bound to get your share of these goodies!
(Expiry: 8th February 2015)