(Ontario) HungryMan Frozen Dinners For Less Than A Dollar!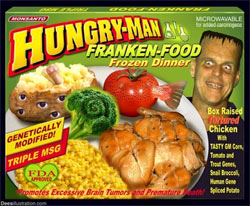 Hungry kids? Hungry husband? Hungry Man!!
I've spotted a free printable coupon for Hungry-Man dinners. It's worth a whole one dollar discount until the end of January 2009! You can get it and print the free coupon out from here. This is applicable to those of you in Ontario.
Here's the good part – Hungry Man products are on offer @ Food Basics supermarkets this week – they are only $1.99!! Using this coupon means you can get them for only $0.99! If you or your family likes these, I suggest you stock up!
It does say one coupon per purchase – surely this means you can just buy as many as you want with the coupon? They might make you put them through on separate transactions each time though. The coupons usually say "one per customer," but not in this case, which leads me to believe you should be able to use it as often as you want. I think I read on one forum that someone had used it 11 times at Walmart.
I asked one of the guys in my office his opinion of the HungryMan range with regards to their frozen meals … and he says "There's better out there." So I guess they're not everyone's cup of tea. Well, for a dollar, I wouldn't complain.
Thanks for the image uncleardegree!