Mmm, Bacon! Frazzles Snacks Will Hit The Spot - $10.87 Incl. Ship @ Amazon.ca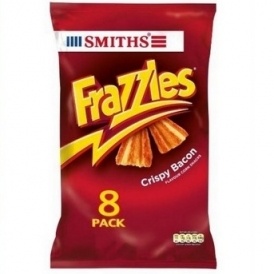 Our friends went to England a few years ago and brought us back some bacon looking snacks that were so delicious, we never forgot about them. (Mmmm, bacon...) And here now, they are, being sold on Amazon.ca Marketplace, by seller Propharm!
These Smith's Frazzles are very difficult to find unless you happen to live around a specialty UK gourmet food shop and if you do live near one you will see the pricing may be expensive on these. They are selling for only $8.39 for a pack of 8 individual servings at Amazon.ca Marketplace, plus $2.48 for shipping. At $1.36 per bag these are totally worth it!
When you click on the link below, please then click on the link that says '6 new' (shown in the red box below.) Then add to your cart the one that states that Propharm is the seller, as currently it is the cheapest pricing on these yummy snacks.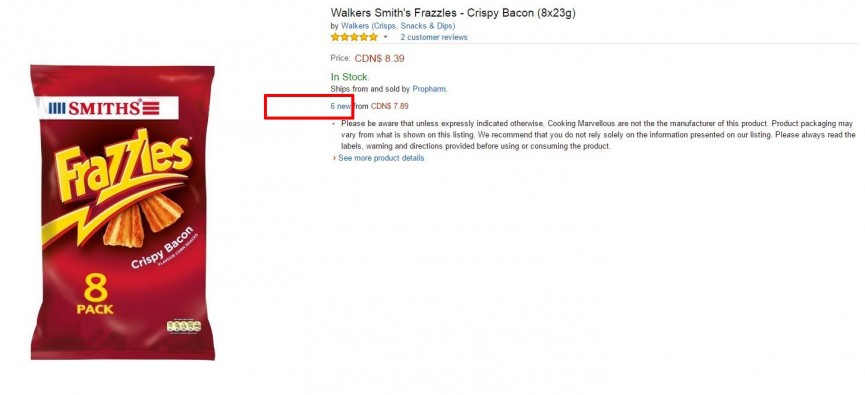 Shipping will take a long time because they are shipped directly from the UK (Mid-August 20 - Sept. 1 is the estimated arrival date on my order.) It's clearly stated that the packaging may look different, but the product will still be as described.

I'm going to be honest here - the bags are small... Really small, as in 23 grams each individual bag. If I open up one of these, I want to hoard them all to myself. Hint: Open when you are by yourself. WITHOUT your dog around. The good note about the small bags is, they are only around 113 calories each. No matter how small the bags are though, this product is so good that you must try them.
I once purchased bacon hot chocolate and it was not. so. good. These Frazzles are the complete opposite, you will love these if you love bacon!
Here's the description on the Amazon website, but it does not really do the product justice:
Frazzles are crispy bacon corn snacks. They are flat and look a bit like bacon rashers pieces. First introduced in 1975 by Smiths, Frazzles have retained their distinct brown packaging with yellow writing on it. Frazzles are so fantastic that this crispy bacon flavour corn snack won the 2012 World Cup of Crisps! Suitable for vegetarians.
So there you have it, you can even give this to your vegetarian friends! (If you want to give these precious morsels away.)
Shipping is only $2.48 on this item.
(Deal expiry: Unknown)