Dominos Canada: All Pizza 50% Off When You Order Online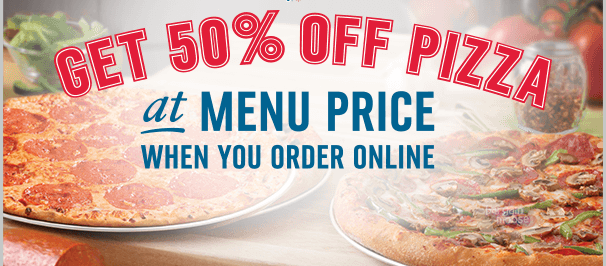 Dominos has a fantastic deal on right now that I am so taking advantage of. Get 50% off all pizza when you order online!
My son's birthday party is on Sunday and I am feeding 13 hungry children pool-side. I figured I would get pizza delivered in, as it would be the easiest and then this deal popped up and worked so well for me! I can even pre-order right now for delivery on Sunday, which I am going to do once this post is done.
I have to admit Dominos is not my most favourite pizza, but I know that kids love it (I am more of a gourmet and deep-dish pizza lover). We are sticking to the basic cheese and cheese and pepperoni pizzas because that's what kids like.
I just placed my order and for three extra large pizzas including delivery it was only $22! Each pizza was only a little over $5. This is a fantastic deal and I'm happy to have found it and shared it with you. You don't need to pay when you order and you can pay cash, credit and debit when they deliver. You can also do pickup. This is much better and easier than ordering on the phone.
(Expiry: Unknown)