$5 For An 8-Pack of SodaStream Capsules @ Walmart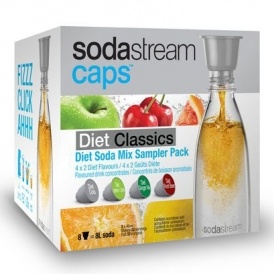 Any SodaStream users out there? If you're one, you know, it can get a bit costly to stay stocked up on flavouring. If diet soda is your jam, quench your thirst with this sweet (pun intended!) little deal on single-serve capsules—just $5 for an 8 pack in a variety of flavours.
I'm a little bit wary of one-use capsules because of the waste-factor, but these guys are recyclable, which takes a load off my conscience. One SodaStream capsule will flavour one 1L SodaStream carbonating bottle in an instant. It's kind of fun to mix up your own soda, isn't it?
This deal is only available online but Walmart will ship for free with a $50 order, so you can add these as part of larger order. Or have them shipped for free to your nearest Canada Post for pick up.
(Expiry: Unknown)