Dealfind Canada: $100 For a Gourmet Secrets Samplers Club Package (Value $420)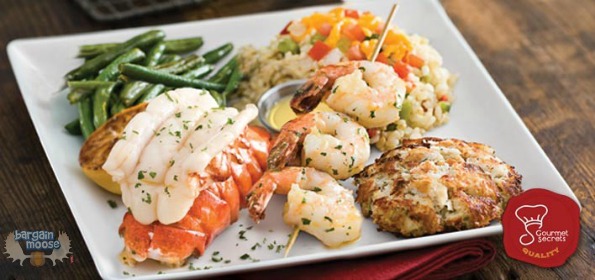 If you are scrambling for a last minute gift idea for a foodie in your life, this one is perfect! Dealfind is offering a Gourmet Secrets samplers club package worth $420 for only $100.
What you get with this deal is six sampler codes so you or your gift recipient can get six sampler boxes that are redeemable once every two months. You don't have to order one of every box and it is possible to even order the same box all six times.
Here's the different kinds of boxes:
Variety Sampling Box:
2x5oz Lemon & Herb Natural Free Range Chicken Breasts
2x 454g Natural Angus XXX Lean Ground Beef
2x6oz Prime Pork Steaks
2x5oz Wild Coho Salmon Steaks
Catch Of The Day Sampling Box:
2x5oz Wild Mahi Mahi Portions.
2x4oz Wild Haddock Loins.
2x5oz Wild European Pickerel Filet.
4x5oz Wild Pacific Snapper.
Natural Free Range Chicken & Turkey Sampling Box:
500g Natural Free Range Chicken Filet.
2x10oz Free Range Turkey Breasts.
4x100g Chicken Souvlaki Kabobs.
454g Free Range Ground Turkey.
Finger Food Sampling Box:
16x100g Deluxe Chicken Fingers.
750g Fully Cooked Hot or Honey Garlic Chicken Wings.
5x100g Boneless Dry.
Seafood Sampling Box:
4x3oz Natural Crab Cakes.
4x10 Shrimps Scampi (40pcs)
4 oz Rock Lobster Tail.
500g Nordique Island Seafood Sauce (Shrimps,Lobster & Scallops in white wine sauce)
AAA Alberta Beef Sampling Box:
2x4oz Bacon Wrapped Filet Mignon.
4x6oz Celiac Homestyle Angus Steak Patties.
454g Extra Lean Beef Cubes.
2x6 oz. Angus Ranch Steaks.
This sounds amazing because you are basically getting enough meat in a box to feed a family for a week, for an average cost of $17 a box. It also sounds like the meat is not just regular meat, but prime, free-range and wild too. I love sampler boxes but it makes me try stuff I may not have bought on my own to try, that I may just love. This also makes a wonderful gift idea for someone who may be down on their luck financially, because you know they really could use meat to feed the family, and some of the meat is a real treat (like the Rock lobster tails!). The recipient also gets to choose what they like, rather than you choosing, as you are giving them the codes (or you could choose and just input their shipping address).
Also, $1 of every voucher sold goes to the Canadian Diabetes Association, so this is the gift that gives back a little. Shipping is included in the cost, which makes this deal even that much better. The meat is shipped frozen and in a ice-packed chest in case you can't pick up from your doorstep right away.
(Expiry: 26th December 2013)