Costco Canda: $100 off Mileage Fitness Turn-N-Lock 11.3-27.2 kg Adjustable Dumbbells and Stand (Now $300) - EXPIRED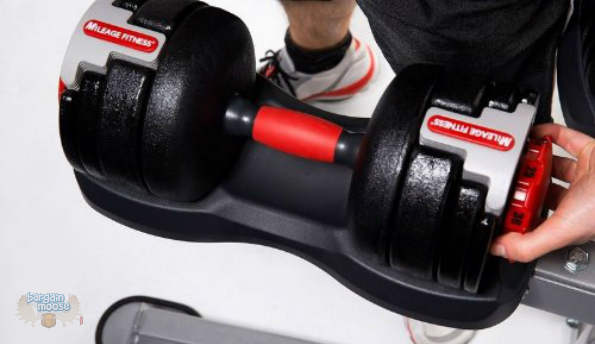 Get buffed for less with Mileage Fitness and Costco Canada.
I used to be into fitness at one point. I was doing P90X and was dropping pounds all over the place. People were just tripping over my pounds I had dropped so many. Part of the whole P90X thing and a lot of other exercise routines requires weight training. Now, I was doing this when I was a bachelor and, at that point, I could have gotten all the fitness equipment I wanted. I had money and nothing (or no one) to spend it on. Of course I was just out of college which means I was young and dumb. So instead of picking up a great set of adjustable dumbbells, I wasted my money.
Of course there were other pieces of equipment I should have been getting but I'm writing about adjustable dumbbells so that's the example I'm using. These would have been a huge help to my routine. I had been using a set of cement dumbbells that my mom got on clearance at Sears 15 years ago. They are fine but you have 2.5 pound, 10 pounds and 25 pounds and sometimes the 10 pound aren't enough but using the 25 pound ones are just too much. You can go out and buy more but suddenly you have dumbbells all over the place. Maybe you need a stand. That's more money and it takes up tons of space. That's where these adjustable ones are the best option. They only take up as much room as a traditional set of dumbbells, but you can adjust them to go from 11.3KG to 27.2KG. That's 25 lbs to 60 lbs. So it wouldn't work for my girly noodle arms but if you're really in to this stuff or are planning on being really into it soon, well, this is a great choice. Basically how they work is you have a handle. You put that handle in a stack of weights and turn little dial to choose which weight you want. The dial moves some mechanism that locks weights to the handle. When you pick them up you only get the weights that the dial is set to grab. The others stay on the stand.
These are normally $399.99 but you save $100 so you're gonna get them for $299.99! That's a great price all around. I did look for this same set elsewhere but not a lot of people are selling it. The ones I did find were universally more expensive. You also get free shipping on these which is a bonus when your package is over 120 pounds.
(Expires: 19th January 2014)