Costco Canada: King Size Sealy White Goose Down Duvet $179.99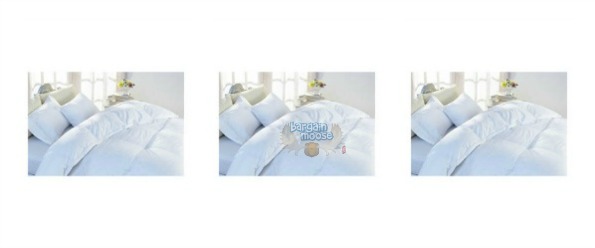 Even though we find great deals daily here at Bargainmoose, it is always nice when we get a deal sent in that is awesome that we hadn't yet got the chance to see. Costco Canada has their Sealy White Goose Down Duvets in Light Warm and Extra Warm for just $179.99 for King size.
To get this deal, click on the options "light warmth" and " king goose down duvet" and the price will be just $179.99.  It has a 370 thread count and the 100% cotton leak-proof fabric is soft and breathable.  It also has a 600 fill power (higher fill power means larger, stronger clusters that provide higher loft and exceptional insulation and breath-ability) and it is hypoallergenic down.  That's a very good quality for the price!
Here is a quote from our Mooser Anna who already took advantage of this deal:
I compared the filing (in ounces) to other duvets and the "Extra Warm" does have more filling, so it seems worth it if you're a cold sleeper.  Shipping is free and it was super fast (2-3days for me in the Montreal suburbs).
I wanted to do some price comparisons of my own to make sure this was a great deal.  I found similar duvets at both Sears Canada and The Bay Canada for more money and a cheaper quality.  The duvet at The Bay Canada was $407.99 (on sale) and the thread count was only 350 compared to the 370 over at Costco.  The duvet that is comparable over at Sears Canada was priced at $269.99 (on sale as well) and it was also 370 thread count.  The only comparable duvets that Sears Canada had that were even close to the same price were all 300 thread count or less.
A duvet is something that you use every single day and an item that needs to be of a good quality.  That being said, finding a great deal like this is well worth the price.  I know you can find duvets for $100 or less but trust me, they are not the good quality that this one at Costco is.  Sealy's duvets, with their great 370 thread count, are a fantastic deal at $179.99!
Thanks Bargainmooser Anna for alerting us to this awesome deal!
(Expiry: Limited time only)