Costco Canada: Canada's Wonderland Day Pass Plus Unlimited Drinks Was $46 | Now $36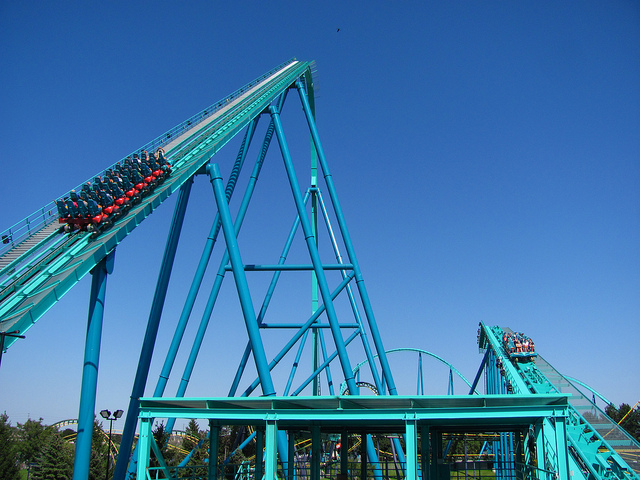 Planning on hitting up Canada's largest theme park this summer? I know I am! If you are, I've found a fabulous deal from Costco that will save you some cash before you go. Regularly $45.99, get your one day pass for ages 3 to 59 for only $36.99, Update - now $35.99, plus you'll get unlimited pop and I tell you that is worth quite a bit since drinks are not cheap at Canada's Wonderland! The regular price of this deal beats out what you'll pay on Canada's Wonderland's site, so the discounted price is that much better!
Living in Ontario, I know Canada's Wonderland very well. I actually used to live a 10 minute drive from it and now it is more like 45 minutes, but we all have season passes since it is such a great way to spend a day. While I don't really want to blog all the good deals that come out for CW because that means you'll be making the lines longer, I can't hold this back from my fellow Moosers.
Your tickets from this deal will come via email, so you can basically buy them the day before or even that day. It says the vouchers will come within an hour, but personally, I would give it a little extra time as you never know.
With this e-ticket, you'll get admission to pretty much everything at Canada's Wonderland. They do have a dinosaur exhibit that you have to pay extra, plus a movie, which my kids said is pretty awesome.
On top of all the rides and shows, you'll get free fountain drinks all day, using a wristband. I usually buy the souvenir cup that is about $16 and I get $0.99 refills, as the regular price of drinks is probably around the $5 mark and can get ridiculously expensive. You don't have to just get pop, I think they have some fountain juices as well. If you are going on a very hot day, this will be a godsend.
If you look at the Canada's Wonderland site, you'll see that the 3 day advance ticket is $40.99 and the at the gate price is $61.99! This means you are saving about half off the gate price. If you decide that morning to go and buy from the CW site, your ticket price is $47.99.
Moosers, what is your favourite ride? Ours is the Ghoster Coaster!
Photo credit: Jeremy Thompson
(Expiry: 10th July 2015)