Costco Canada: $15 Off Wine Kits (Expired)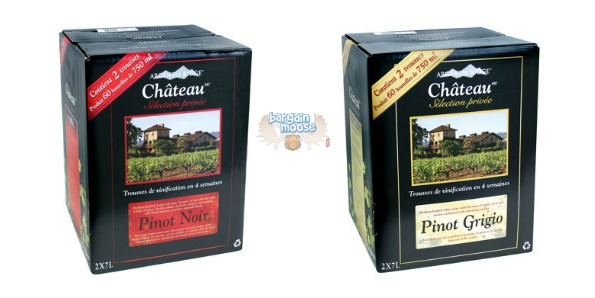 Make your own wine kits are on sale at Costco Canada for $15 off.
I have never made my own wine, but since wine is one of my most favourite things in the world, I think I'd like to try, especially when it can be as easy as buying a kit from Costco. We rarely have wine on hand because we buy as we go, so when guests come over, I don't have it to offer to them and I'd like that to change.
These make your own wine kits from Costco look great and all of them are $15 off. To get them delivered, a person over 19 years old has to make the purchase and be there at delivery to accept. Sorry kids, this one is not for you. You will need 60 bottles, which you can probably buy, use your own that you may have saved, or as a neighbour of mine once did, beg, borrow and steal on recycling day. The kit will make 60 bottles of wine and includes the 60 corks, shrink wraps and wine labels. It also includes two 7-litre bags of grape juice concentrate and two sets of additive packs. Everything is 100% food grade (I'd definitely hope so!) and GMO free. They also 100% guarantee satisfaction, so if it ends up being a bust for whatever reason, you get your money back. I've never purchased an individual wine that offered that kind of guarantee, although many times I wish it did. If you have any allergies to sulphites or shellfish, this kit is not for you.
The first kit I see is the Argentia Ridge Chateau Private Selection White Zinfandel. This wine is off-dry, medium-bodied with impressive varietal character and a strawberry pink colour with delicate fruity aromas. They say this is a great summer wine, and it sounds so refreshing and smooth. Regularly $99.99, get it for $84.99.
If you are more into the red like me, the Argentia Ridge Chateau Private Selection Pinot Noir is a great choice. It is a medium-bodied red wine with flavours of ripe cherries and spice with lively acidity and soft tannins. Sounds divine. Also only $84.99, from $99.99.
For the white drinkers, the Argentia Ridge Chateau Private Selection Pinot Grigio is great. I don't favour white, but if I do drink it, I drink Pinot Grigio. With a fresh finish and intense flavours of apple, pear and melon, this wine sounds delicious. This one had a five-star review and is also on sale for $84.99.
Shipping is included in the price.
(Expiry: 3rd February 2013)