Canadian Coupons: The Healthy Shopper Coupon Book
Jen emailed me to let me know about  a Canadian coupon book which you can pick up in-store, or a club you can join online - The Healthy Shopper. It's specifically about healthy products, as you can probably tell from the title!!
The current edition of the coupon book is valid to the 31st March 2009. The book contains info and coupons on all sorts of things, from natural and organic products (Food & Beverages, Vitamins & Supplements and Personal Care products). You can find your nearest location to collect a hard copy of the coupon book here.
I actually joined the online club so I can check out the e-coupons and participate in the email newsletter. I had to complete a survey to do so, but it only took about a minute.
Once you are signed in, a bar appears which says "click on this bar to browse our coupon book." If you want to see the kind of things available from the in-store coupon book, you can have a nosey through it there.
Some examples of the types of coupons which you can get: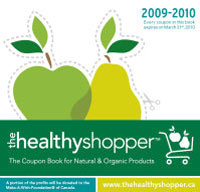 There are lots more coupons online, which you can print out from their e-coupons section.
Point to note: Sometimes Save.ca and GoCoupons Canada offer mailable coupons, and the products might overlap with those in the Healthy Shopper coupon booklet. If so, you should be able to stack the coupons at a London Drugs near you (the only store I know which accepts multiple coupons on one product).