7Eleven Canada: Small Coffees just $0.50!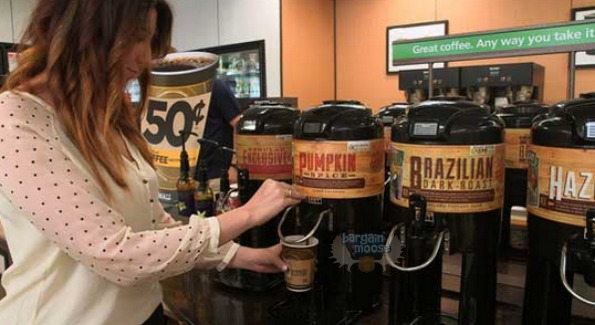 It was 50 years ago, that 7Eleven introduce their coffee on the go.  In celebration of this, they are offering a really great deal to all Canadians.  7-Eleven can help you do this and keep a little extra money in your wallet as well.  For a limited time only, you can get a small coffee for just $0.50.
I think most Canadians would admit that to start their day off right, they want to have a nice cup of coffee in their hands to enjoy. It is pretty rare for a store to offer a small coffee for just $1 these days so getting a small coffee for just $0.50 is a spectacular deal.  You can go in as many times as you would like and get it over and over again.
You would be surprised at how many flavours of coffee that they have for a selection to choose from. One of their new fall ones out that is very popular is the new pumpkin spice. All of the flavours will be included with this awesome deal so you can get this special flavoured one or their regular roast coffee and still just pay only $0.50 for a small cup of it.  Additionally, you can go at any time during the day or night and still pay only $0.50, which is a nice little bonus as well.
If you are looking for a nice sweet treat to go with your very inexpensive coffee, they have their doughnuts on sale as well. You will be able to get two glazed doughnuts for just $1.
There is another promotion happening for the 50-year celebration.  At the same time, 7eleven will kick off an "Every 7th Cup Free" coffee-rewards program through its 7‑Eleven mobile app. You will need to download the app to your smartphone to be able to be eligible to win a free coffee and this promotion will run at the exact same time.
(Thanks My Bulging Wallet for letting us know about this deal)
(Expiry: 14th September 2014)