Waterproof Electronic Nose & Ear Hair Trimmer Only $4.16 & Free Shipping @ DX.com!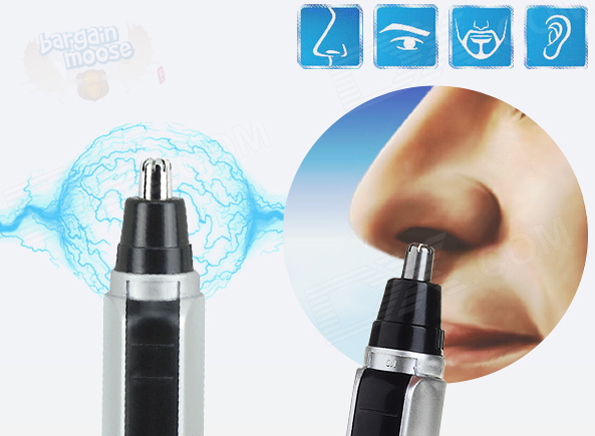 I was browsing the top-selling items on Deal Extreme just now, and I could see a lot of interesting things at great prices. One such item was this Waterproof Electronic Nose and Ear Hair Trimmer, which was standing out as it was such a low price – it's got a 25% discount on its regular price and it's now only $4.16 (Canadian dollars) and that also comes with free worldwide shipping!
The Waterproof Electronic Nose and Ear Hair Trimmer takes 1x AA battery… we've all got many of those around the house.
The device can be used for things other than noses and ears, it can be used as an all-round trimmer; it even has a photo of a woman and suggests that you can use the device for eyebrow trimming. You could consider bread-trimming too.
It's hard to price compare the likes of this trimmer, as it's a low-priced unbranded item. But I had a browse round the Canadian interwebs and the closest I can find to this kind of thing would be the likes of this Conair one from London Drugs, priced at $7.99. It doesn't come with free shipping though. A similar one is $7.26 on Amazon here, but again, no free shipping. All in all, I think that the sub $5 mark on the above device from Deal Extreme is very good indeed, especially with the free shipping to your home.
Just in case any of you haven't heard of them, Deal Extreme is a Hong Kong based site, which ships all over the world. They've been around for yonks, and I've ordered from them quite a few times – definitely reliable and trustworthy. It constantly amazes me how they can ship items like this, worldwide, for free. I guess they don't have to deal with the jacked-up shipping prices on Canada Post, eh?
My partner is turning 40 next month, the big FOUR OH! As he ages, he's finding many unexpected hairs growing from new and interesting places; most specifically – his ear holes. Sometimes I glance over and he's trying to pull the hairs out with his fingertips. Sometimes he even borrows my tweezers to do it – this has to stop! This trimmer might be an ideal gadget for my partner, but it might not go down so well as a 40th birthday present!
(Expiry: Unknown)