The Shopping Channel Canada: 90% Off MagicBlue Flexduster Mop + Extra 40% Off + Free Shipping - HOT!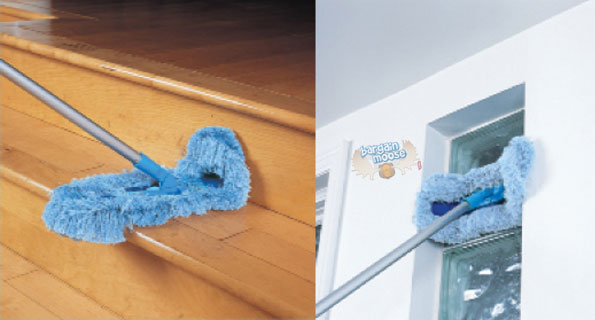 Here is a super hot deal that you definitely won't want to miss! At The Shopping Channel right now, you can get the MagicBlue flexduster micro-fibre mop on sale for just $2.33. It was originally priced at $19.99, but there are two factors that make this deal even hotter: 1. shipping is absolutely free and 2. you can save an extra 40% off by using The Shopping Channel promo code: FINALSALE. This means that you can get this mop for just $1.40 and have it shipped at no extra cost!
My home can never stay clean. It seems that as soon as one hour after vacuuming and mopping, the floors are already dirty! It probably has something to do with the fact that I have two cats, a baby and a hubby but it can still be aggravating at times. Luckily, my hubby is the one who does all the vacuuming and mopping but for some reason, our Vileda Promist mop breaks every couple of months, forcing us to get a new one.
The Vileda one is great but certainly not one that you can use to reach hard to reach spots on the ceiling like a giant cobweb in the corner of the room and so, I have actually already ordered the MagicBlue flexduster mop to use it as a duster. According to the description, it uses static energy to pick up fine particles like hair, dust and although it doesn't specify it, I'm certain that it would be great for animal hair as well.
Even though I am of average height, I can't see or reach to the top of the TV stand, so instead of having to grab a chair, I would definitely use this mop to just quickly pass it along the surface and gather all the dust. Not only that, but our hallway is frequently full of giant furballs as one of my cats sheds like crazy and I'm curious to see if this mop would help to curb the overflow of fur everywhere.
The Shopping Channel coupon code mentioned above can also be used on all last chance price items as well. There are close to 200 items to choose with anything from clothing to jewellery, home items, outside decorations and much more. Since I have a backyard now, I'm thinking of getting the metal & resin lantern with flameless LED timer candle, which comes further down to just $8.60 from a sale price of $14.33 (reg. $29.99). It doesn't require a real candle, which eliminates the stress of cleaning up the wax after or worrying about kids knocking it over. The metal part of the candle is black, but it could probably easily be painted any colour to make it truly unique. The only hitch is that shipping is $6.99.
(Expiry: 30th September 2014)