The Girl With The Dragon Tattoo Trilogy On Blu-Ray Was $77 | Now $24.49 (FS @ $25+) @ Amazon Canada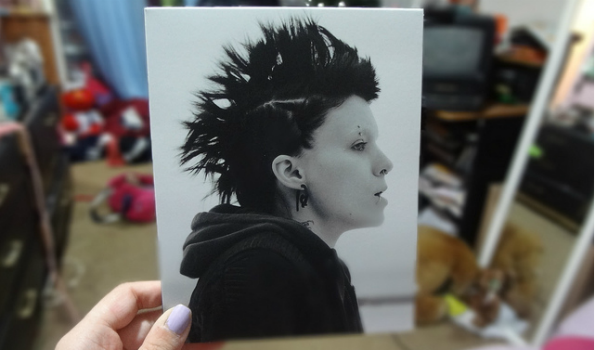 Here is a great way to spend the next rainy weekend day. The Girl With the Dragon Tattoo Trilogy extended edition on Blu-ray is on deep discount today on Amazon Canada. This set was $76.99 but is now only $24.49.
If you like crime dramas, mysteries, and fantastic suspenseful movies, you need to own this series created by Stieg Larsson. My friend was really into the books when they first came out on the NY York Times Best Seller List. I remember how excited she was about the movies, and have long had this series on my list to both read and watch. The premise of the story centers around Lisbeth, a computer hacker who teams up with journalist Mikael to unravel a dark family history riddled with secretive acts and murder. This extended edition set also includes both an extra biography about the author, and a documentary about the trilogy. In addition, you will see interviews with all of the cast plus a behind the scenes peek of the fight scene in The Girl Who Plays With Fire.
There is no better time to catch up with this series even if you have seen it before. It was announced that in August a sequel will be released to this trilogy, and a glimpse of the cover art for the 4th book, The Girl In the Spider Web can be seen on CBC News. Catch up or re-watch so you will be ready by the time the new release one is out. Larsson had originally planned to release an additional seven books in the series but died unexpectedly in 2004 before the books were published. Fans of this series are crying for more and will soon get that sequel though I suspect it will never quite live up to the originals. The new book will be written by a new author and include all new content.
Price Comparison
Over at Chapters Indigo, this same Blu-ray extended edition set is selling for $53.89. There is a used copy selling for about $33 that Chapters Indigo is telling me is rare also. You can find the set at Shop.ca on Blu-ray for $61.59. Most of the other retailers I checked had a spotty selection of Blu-rays for this trilogy. Both Walmart and Best Buy only carried the first of the three films on Blu-ray.
Shipping
This Blu-ray set is so close to free shipping it almost hurts. The minimum for free super saver shipping is $25 and this item falls $0.50 short. Luckily for you and I, Amazon Canada has an amazing add-on program. If you search add-on you should be able to see all of the items. I would grab this Dawn Dish Soap for only $1 as my bottle is less than halfway full.
If you are still deciding if you should buy these movies, the first movie carries solid positive reviews on IMBD. Grab your copy now before they are gone! I might make an exception to reading the books first at this price. This would be perfect for date night after the kid goes to bed with my other half.
Image Credit: Steph
(Expiry: Unknown)