TeamSave: $50 for a 16"x20" Museum Gallery Wrap from Canada on Canvas ($100 Value)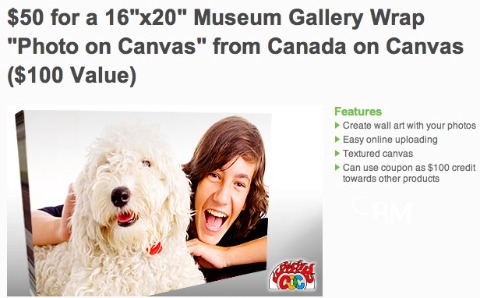 TeamSave is offering a great deal on a 16"x20" Museum Gallery Wrap Canvas from Canada on Canvas, a $100 value. You get 50% off.
The great thing with their offer is you can actually use the voucher for $100 of credit to other products. So if you decide you like something else better, go with it!
Other info:
Shipping is $10 extra
Taxes not included
We have a lovely 16x20" canvas of us dancing on at our wedding in black and white, hung above our fireplace. One of the better investments in art we have have. So inexpensive and very effective. Also, extremely easy to hang! When we move out of our apartment to a bigger place I want to get a much larger canvas done for the living room.
You have 5 and 1/2 days to take advantage of this offer!