Team Buy Canada: Walking Buddy Pedometer 60% off Just $10 (Tax & Shipping included)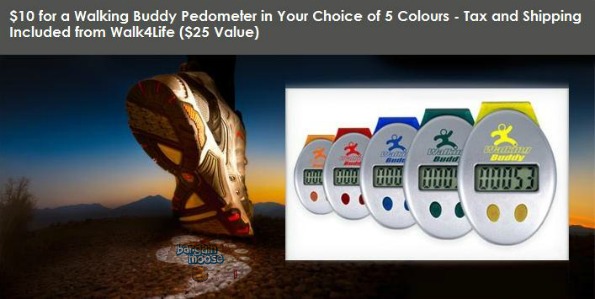 Team Buy Canada has a great buy on right now that definitely piqued my interest.  Until 1st May 2012, you can pick up a Walking Buddy pedometer from Walk4Life for just $10.  That included the Shipping and handling as well.
This Pedometer comes in 5 different colors to choose from and the total value is $25 but until 1st May it is on for just $10.  I like the fact that this deal includes the shipping and taxes because a lot of deals don't.
Here are a few of the details for this offer:
Includes Walking Buddy Pedometer in your choice of 5 colours: black, blue, red, yellow and orange
To Redeem: simply select your colour and provide your shipping address at checkout, and the product will be automatically mailed to you when the deal ends
Max 5 per person. Max 5 as gifts
No set-up time and easy to use.
Automatically counts your number of steps as well as total activity time
Clips right onto your belt or pants
I have a walking pedometer and use it daily.  I find that it keeps me on track even those days where I really don't want to work out.  I can look at how many steps I have taken and decide how much and how long I need to workout if I am unmotivated.
(Expiry: 1st May 2012)