Team Buy Canada: 10 Foot iPod or iPhone Charging Cable for $10 Online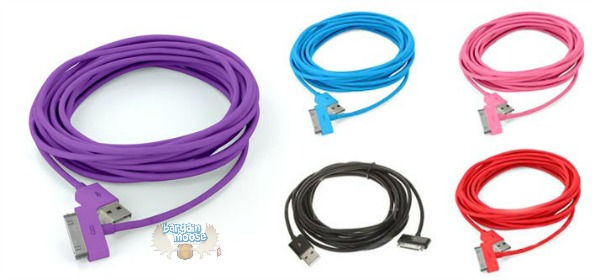 Team Buy Canada has a great deal on 10ft iPod or Iphone charging cables for $10. Shipping and tax included and comes with 90-day warranty. Buys are unlimited, but sale ends in 5 days.
What you're getting: 10ft of USB charging cable that is compatible with all iPhone and Ipod generations. Available colours are black, pink, blue, orange, purple, red, white, yellow, lime green and hot pink.
Cables are selling for $10 each (tax and shipping included). I did some searching around and the least expensive USB charging cable I could find was at Best Buy for $19.99 (not including tax), and it did not state the length of cord, but it certainly did not look like 10 feet.
If you are anything like us, you are always searching for a USB charging cable for one thing or another. I think it's a great idea to have a couple extra around just in case. At this price, you can throw a few in some Christmas stockings!
You might also want to check their deal on a 6-piece accessory pack for the iPhone or Ipod listed at $23. This comes with car charger, wall adapter, earphones, USB travel cable, audio splitter and USB long cable. If you are looking for the entire set, this might be a better deal since the USB long cable included is also 10 feet.
Shipping: included in price – will deliver 3 – 5 weeks after end of sale.
Expiry: Sale for 10ft cable ends in 5 days, accessory pack in 2 days