Steven Spielberg Director's Edition Blu-Ray Bilingual DVD Collection, $45 down from $160 @ Amazon.ca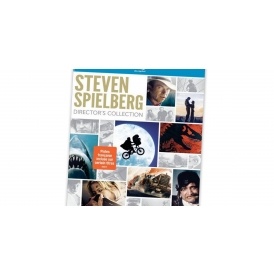 If you or your significant other loves Steven Spielberg movies, you are in for a real treat! This director's edition Blu-ray DVD collection is the ultimate collection for a Spielberg fan. You'll be phoning home, just like E.T., to tell everyone about your new Spielberg director's set. The cost of the entire set is only $45, down from $160! This is a one day sale, today, April 29th, only. Shipping is free on this item.
This is an 8-disc bilingual (English, with dubbed French and Spanish) set, which means each disc is just over $5 each! Each blue-ray DVD includes fascinating information on the movies Duel, The Sugarland Express, Jaws, E.T. The Extra-Terrestrial and Jurassic Park. I don't know about you, but in my home, if Jaws is playing on the TV, all eyes are on it. It would be great to have the background information on the Jaws movie.
This set is still selling for $129.99 and up at other Canadian retailers, so I wouldn't miss out on this offer if you enjoy these movies. Shipping is free on this item since Amazon.ca has free shipping on all orders over $25.
(Deal Expiry: April 29, 2016)