Star Wars Shower Curtain For Fans Of Any Age—$15 @ Bed Bath & Beyond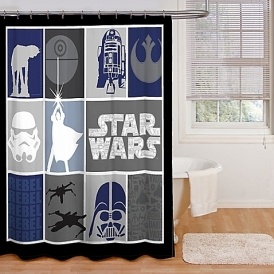 "In my experience there is no such thing as luck." – Obi-Wan Kenobi
So... that being said, when I found this extraordinary Star Wars shower curtain priced at only $15 (down from $35), I knew it wasn't just luck. I know, because Obi-Wan Kenobi said that, and he is my only hope.

The Star Wars admirers that I know are ones that really love having Star Wars accessories in their homes that they can proudly display. (Meaning, they like to live, breathe, sleep, and eat Star Wars for breakfast.) This classic design Star Wars shower curtain will appeal to all ages! It is made of microfiber, and can be washed and dried! It measures 70" W x 72" L.

If you are one of these Star Wars fans, or if you know of someone who would want this, why don't you surprise them? I know someone who once liked a shower curtain design so much, they hung it on their wall as an accent piece and it looked amazing. It helped that they had experience with interior decor, I guess.
Shipping is around $6 on this item, but if you spend over $99, shipping is free.

(Expiry date: Unknown)