Skittles & Starburst Fun Size Packs (50 Count) | Was $9 Now $5.37 @ Amazon.ca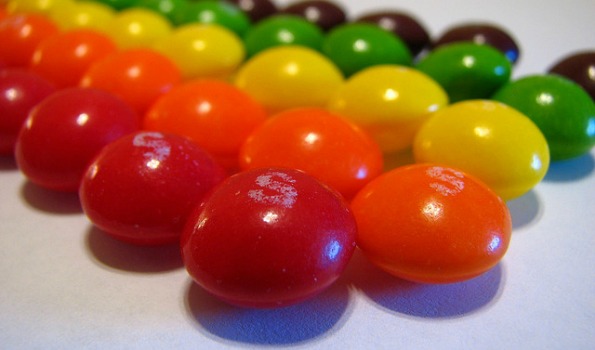 Yum, Skittles and Starburst! Check out this 50 pack of fun size Skittles and Starbursts. Originally $9 you can now score a box for only $5.37. Free shipping is available if you spend a minimum of $25 on your final order @ Amazon.ca.
On the horizon are several holidays that would be perfect excuses to taste the rainbow and pick up these Skittles and Starbursts. This box includes 50 fun size treats perfect for Valentine's Day. They would easily stuff into Valentine's Day goody bags or can be attached to paper hearts to give to your friends.
I will make it even one step easier for you. Here is a free printable for a Skittle's Valentines from Kreations By Kara. For the Starbursts, here is a free printable to make Starburst Valentine's from it's Always Autumn. Look at that! You can click, print, tape and have those Valentine's done in no time at all. Everyone will think you are so clever. If you and your friend both show up at a party with the same Valentines, you can have a great laugh about how much you both love Bargainmoose.
Alternatively, if you celebrate St. Patrick's Day with any kind of event or party this pack of candy could come in handy. Since both candies are in rainbow colours, they make a natural pairing with leprechauns, rainbows and pots of gold for St. Patricks Day. Or you can eat some candy yourself while you have a nice green beer.
These are a bit tricky to price compare. I did find a similar sized box of Starbursts and Skittles at Walmart for $8. The kicker is the candy is only available in store and you will still pay more.
I think this is a great deal on candies that can be used for multiple holidays. I find that often the only individual fun packs that go on clearance or sale are packs geared to a specific holiday, making it difficult to give out later. You look a little strange giving out green and red Christmas candy on Valentine's Day.
Eva, one of our long-time Bargainmoose bloggers, recently posted about M&M's on Amazon that were at a great price. While the M&M's on that post sold out quickly, I noticed the 130 gram 12 pack Snickers Bites Eva mentioned are an even better price today. The pack of Snickers Bites was $34.68, dropped to $17.45 the other day and today has dropped even lower to $14.21.
If you do have a taste for M&M's check out the M&M's 48 gram 24 count box was $30.96 now $9.88. I would probably stash these away for sliding into my bag when I go to the movie theatre. They will be a great treat unless the kid finds them first!
Free shipping is available for orders over $25 every day at Amazon. Throw a couple different candies in your cart and your sweets can be headed to your house with free shipping in no time. Or pair it with that Valentine's Day gift you have been meaning to order.
Bargainmooser,s what is your favourite candy to give with Valentines?
(Image credit: Amber)
(Expiry: Unknown)