SentrySafe 500 Fire Safe Box | Was $38 Now $20 @ Amazon.ca (FS on $25+)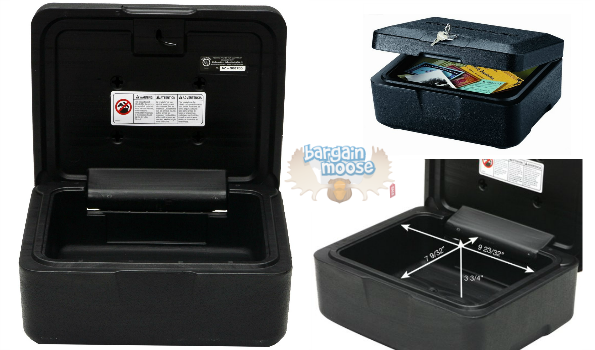 Keep one New Year's resolution to get organized this year. Protect your important documents and electronic files safely with the SentrySafe 500 FireSafe Box. This fire safe box was $38 but has temporarily dropped to only $19.98. Free shipping is available for all orders over $25.
At some point, we all think about what we would do in the case of an emergency and how we would react. Purchase the SentrySafe 500 Fire-safe box and take one more step to protecting your family. This fire safe box is large enough to include all of your most important documents and files. On the inside it is roughly 3" X 9" X 7" or .15 cubic feet. If you have full sheets of paper you want to protect, you would need to fold them in half.
Where this box really works is if you have electronic files you want to safeguard. DVDs, flash drives and CDs will be protected up to 1550 degrees Fahrenheit. This box also locks and is waterproof. It comes with half an hour proven fire protection. It also comes with an after fire replacement lifetime guarantee and a limited warranty.
This one hits a bit personally for me. Several years ago we got a call early in the morning from my father-in-law.  A spark had ignited in the garage from a wire shorting on his old deep freezer that was over 20 years old. Fortunately all of the family got out of the house, but we lost many family heirlooms and photos, and the entire house was demolished and rebuilt. Right after this tragedy struck our family, my husband and I purchased our own fireproof box and made sure to check into all of our insurance policies closely. At the time, I paid over $60 plus shipping for a box that is of a similar size to this one.
I took a look around to price check this particular box. This model is not for sale many other places. I did find a similar Honeywell brand fire/water resistant box at Canadian Tire that is $30 but only available in store. Besthomesafe.net carries a few of these smaller boxes in the Sentry brand in other models but they start at $30 and go up in price and size plus you will pay shipping costs.
Reviews all seem to be pretty solid on this safe and most people are praising the quality. It is rated number 9 in the category: Tools & Home Improvement > Safety & Security > Safes on Amazon.ca. In case you are curious how it holds up, one reviewer has done the legwork for you.
The safe does exactly what it is meant to do. My friend took a small torch lighter thing to it and it made no difference to the outside of the box.
Free shipping is available for orders over $25 and you are not far off. These boxes are not light and often shipping will be expensive due to weight. This particular box weight 5kg and they are estimating shipping is just over $17 for me without super saver shipping. Grab yourself some Skittles and Starbursts from the other day and top off your order.
(Expiry: Unknown)