Sale 4 The Day Canada: 76% Off The Original Dreamie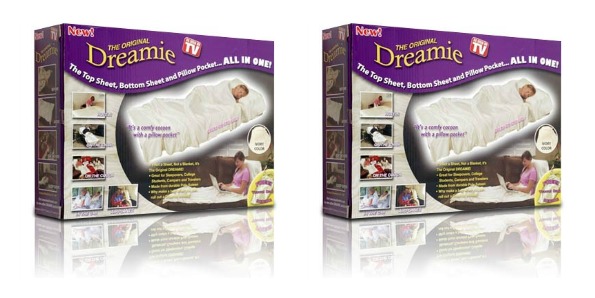 Sale 4 The Day is offering the original Dreamie (as seen on TV) for 76% off regular price.  You must be 18 years of age to purchase and shipping is offered for Canada only.  There is a limit of 3 per person and sale ends tonight.
Dreamie  is that wonderful bedding you can take anywhere with you.  It combines a top sheet and bottom sheet into one with an opening on one end and a built in pocket for a pillow.  It's extremely light and will fit into any travel bag.
I actually bought these for sleep-overs for my children.  It's perfect, they can take their own bedding and roll it all up in a ball and bring it back home to wash and use again.  This is also great for travelling, as we don't all trust those motel sheets, (especially after watching CSI).
The Dreamie comes in an ivory colour with a matching custom carry case.  It is 44" wide X 89" long and is machine washable.   The original price was $29.99, but you can get it today for $7.49.
Shipping: $4.99 per item
(Expiry: 27th October 2012)