Quantum Leap The Complete Series On DVD Was $180 | Now $55 & Free Shipping @ Amazon.ca (EXPIRED)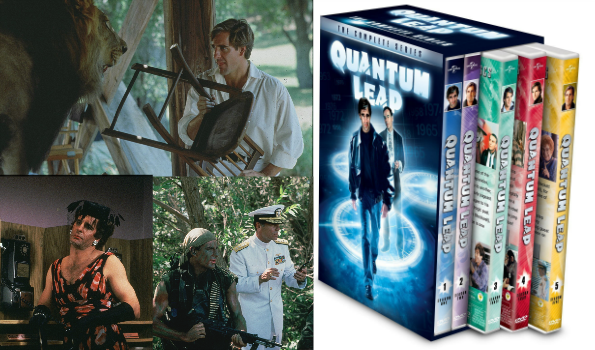 I am so excited to see this TV series pop up as an amazing deal, and cannot wait to settle in with my own copy! Right now, you can grab Quantum Leap The Complete Series on DVD. This series was $179.99, but you can have it today only for $54.99. This item will also ship to you free with super saver shipping.
Sci-fi fans, you cannot be without this series in your collection. This compilation disc set has only been available on the market since last April, so fans can rejoice at having a set all their own without having to purchase seasons individually. This fantastic series started in 1989 and ran for five seasons. In this series, a scientist named Sam Beckett is studying the idea of time travel and string theory. In order to ensure his funding continues, he jumps into his time travel machine prematurely. My husband works in academia and I can guarantee with the current state of science funding that Sam made the right choice! Sam finds himself in someone else's body with partial amnesia. With the help of a holographic image named Al, Sam must right the wrongs happening in the person's life he is currently occupying. With Al's help, he then jumps to the next body, hoping each time he will hop back home to his previous life.  If you are unfamiliar, check out the full bio at IMBD.
Walmart Canada will sell you this amazing series for $124.97. Over at Best Buy Canada, you could pick up this same DVD set for $129.99. I found this DVD set over at Renaud-Bray selling for $164.99. I checked over at Chapters Indigo also, as this seems like a series they should carry, but it is currently out of stock.
If you check out the reviews over on Amazon Canada, you will find multiple reviews from very dedicated fans. The reviews are very long and detailed, so I will cut to the chase and give you the overall synopsis I see. Most fans are in love with this series and are watching the episodes repeatedly. A few were unhappy that edits were made to a few episodes from the original airing, including music changes and a few scenes cut short thanks to reformatting done to make this into a compilation. Overall, this should not affect your enjoyment of the series though you may notice a few differences from what you saw when it originally aired. Superfans should check out the full detailed reviews at Amazon for further details.
If your favourite dad is a sci-fi fan, this cult classic would be a perfect Father's Day gift for him. This is about my price range for Father's Day though I may give it to my husband for his birthday instead. I am sure there is a rainy summer day coming up soon. You will be ready for an awesome TV marathon day with this collection, just add popcorn.
(Expiry: 4th June 2015)