(PS4) MLB 14 Just $30 @ Amazon Canada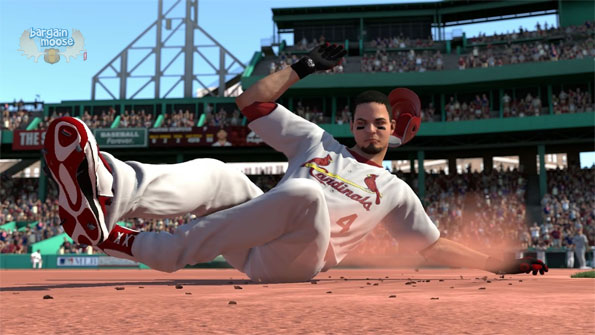 Hate NHL 15? Then try your hand at MLB 14 as it's just $29.99 at Amazon right now for PlayStation 4. It was originally priced at $69.99.
NHL 15's massive flop has been widely discussed and if you're looking for a different sports game to play, then MLB 15 may be right up your alley, especially since Amazon's discount amounts to more than half off - 57% off to be exact. In fact, it's still listed at its $69.99 full price everywhere else.
MLB 14's most noteworthy feature is its player lock. Although player lock isn't new to sports games, this one, however, grants more freedom. First of all, player lock allows a player to solely control one character in the game. MLB 14 goes a step further by also allowing player lock to freely be turned on and off throughout the different game modes. As you advance in the game, you can switch it on and off as you see fit, allowing you to either keep playing as one character or as the whole team. This is definitely a neat feature as it makes the game more fun.
Given that this is a Playstation 4 game, you can expected stunning visuals. In fact, MLB 14 has been praised by many for the level of details. Not only are faces in the crowds and elements of the crowd are more detailed, but so are the players themselves. In this regard, it's very true to life as the players' faces are easily recognizable. There are plenty of extremely positive reviews online but the one that most convinced me to possibly get this game is this one posted on Metacritic:
Look, just save you the time of reading these reviews and hurry up and buy this edition of MLB the show14, if you like baseball you will love this its amazingly that SIMPLE.
In general, Metacritic boasts a 7.7 user score based on over 150 reviews and even Jack DeVries from GameSpot rated it 8 out of 10. Take heed though as this isn't an easy game. For those of you looking for a challenging sports game, then this one might be perfect for you as just like in real life, you need loads of practice. Timing is everything, but that is sure to make it more enjoyable as breezing through a game isn't always great.
Since Amazon ships all orders over $25 for free, you're sure to get free shipping as well.
(Expiry: Unknown)