Pricematters.ca Summer Sale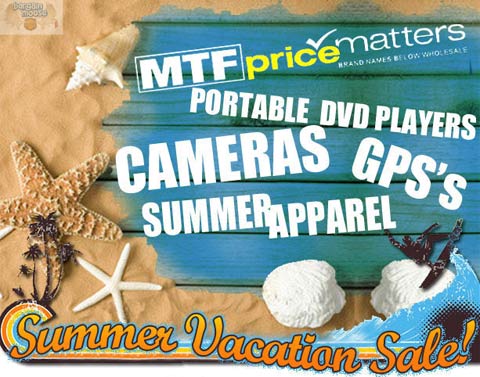 Over at Pricematters.ca, there's a summer vacation sale happening right now!
In the  sale, there are a range of items on offer; portable DVD players, GPSs, cameras and summer apparel.
Prices of the portable DVD players at PriceMatters start at $69.99 for the likes of this Sylvania 7" Dual Screen Portable DVD Player. Not bad!
My sister couldn't live without her portable DVD player! My nephew compulsively watches Dora the Explorer. The portable DVD player is amazing for when she is out and about to keep him entertained, especially when they're in the car. They're really handy for the summer too, if you're going on vacation, even to keep your kid entertained when you're on a plane journey.
In the camera section, they have loads of the top name brands to choose from, but they also have accessories like this Philips 10.4' Digital PhotoFrame (Mocha) for $74.99. That's a good price for a brand name 10" photo frame.
Zahid from PriceMatters tells me:
Some Categories are offering free shipping and as usual any order on the site in other categories will never see a charge of more than $15 for CDN orders.