PLAY-DOH Playskool-Doh Star Wars Endor Forest Battle Was $17 | Now $6 @ Amazon.ca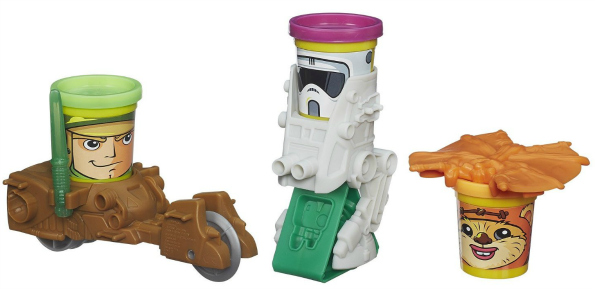 The PLAY-DOH Playskool-Doh Star Wars Endor Forest Battle is a great little toy for your Star Wars fan. Originally $16.99, this can and mold set is on sale for $5.82. Receive free shipping with Amazon Prime or free shipping on orders of $25.

This is part of the Can-Head Play-Doh series and is certainly one of the better sets in my opinion. You get three tubs of Play-Doh and three toys that can be used as molds for the Play-Doh. The three cans represent characters: an Ewok, Like Skywalker, and a Stormtrooper. There is an actual mold on one of them and you can press the dough around the other plastic models for cool shapes and models.
I like this set at this price. I am not sure if those are full-size tubs of Play-Doh but if they are, then that is a $1.50 x 3 = $4.50 value right there before you even get to the fun vehicles and the lightsaber.

You can use any dough with these molds/models and can use the dough from these cans like regular Play-Doh. This is a terribly versatile toy that can mix and match with other sets as well. The cans are the same size as other Can-Head tubs of Play-Doh so you can interchange with other characters: maybe The Hulk or Iron Man wants to guest star on Star Wars.
This toy is also great in that it never goes out of fashion. Even if your kids get tired of Star wars (like that will ever happen), they still have the dough that they can use to build whatever.
I want to thank my lovely colleague Brooke for spotting this deal! Toy deals like this tend to go quickly so we work together to bring you the best deals in the timeliest manner.
I could not find this toy anywhere else to price compare. It is not at Walmart or at Chapters. Neither is it at Toys R Us Canada. Amazon Canada seems to be the only place that you can buy this toy in Canada.
FYI: Amazon prices fluctuate wildly - if the price is different than what I have quoted and shown above, then the deal has ended.
(Expiry: Unknown)