Planet Earth: The Complete Series (DVD) From $39.99 @ Amazon.ca!
I don't know how long this DVD collection will be on offer @ Amazon Canada, so if you're interested, I'd recommend buying it soon. Planet Earth: The Complete Series (2007) DVD box set is only $49.99 from Amazon.ca.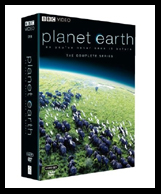 How to get it for $39.99:
Go to the DVD boxset on Amazon.

Add it to your cart and create a new account.

Use coupon code " MAPNEWNCSAVE " when you go through checkout to get the extra $10 discount (only for new accounts).
Watch and enjoy!
I saw the Planet Earth series a few months ago, it's a very good watch if you enjoy nature shows. Some wildlife scenes in the show were pretty amazing and really stand out in my mind. For example, the vivid images of penguins huddling in a snowstorm, or of a great white shark grabbing a seal for its lunch.
Plus, at the end of each episode, it showed a bit about the people who made the show. For example, the camera team who spent weeks underground, filming in the caves, or the guys living in a small hut in the Norwegian arctic who had an hungry polar bear knocking at the door!
It was a great show, definitely worth buying. :)