Paypal Canada: $50 Off $125 @ Shop.ca * BUMP *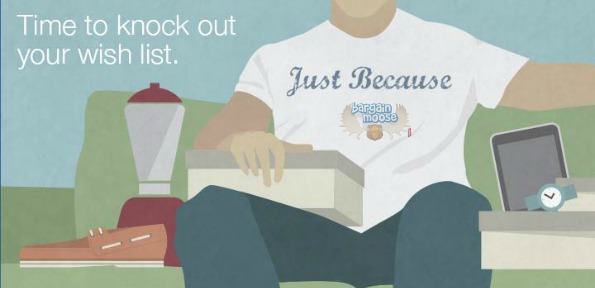 *** BUMP - the deal is now active, look in your Paypal accounts! Plus, there is a $20 off $50 Shop.ca coupon which you can claim here on Facebook which will stack with this offer! ***
Paypal Canada has a secret offer just waiting for you to find it! This appears to be a targeted offer so you may not all have it, but I hope that many of you will. Receive $50 off $125 or more at Shop.ca when you pay with Paypal Canada.
If you are eligible for this offer, you will probably not have received an email for it. The offer is hiding away somewhere in your Paypal Canada account just waiting for you to find it. Follow these steps to find your offer.
Sign into Paypal Canada
Select "Wallet" from the top bar
Scroll to the bottom of the page and look for "Saved offers"
Under saved offers, you should see a deal for $50 off $125 at Shop.ca. Here is what the offer will look like when you click into it: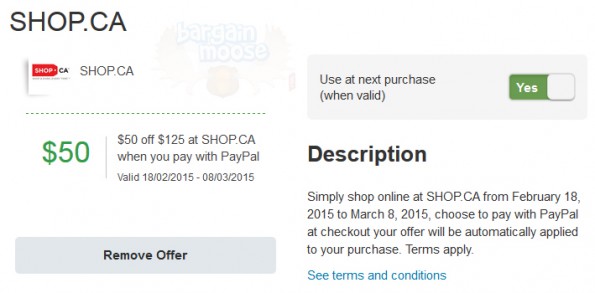 Now, this deal is not valid yet - It will be valid from February 18th through March 8th, 2015. This is your heads up so you can start looking for an awesome item to purchase with this sweet offer from Paypal Canada and Shop.ca together.
Unfortunately, not everyone will have this offer in their Paypal account. I have no idea how Paypal decides what accounts to give these promotions to, but I wish they would just give them to everyone. I did find this offer in my own account; that is how I grabbed the screen shot I have attached above.
It looks like you do not need to do anything special to receive the offer except choose Paypal when you checkout at Shop.ca. The discount will be automatically applied. If you are completely not interested in this offer, it appears you can remove it or disable it from triggering. I have no idea why you would want to do that.
Deals on Shop.ca change so often, thus I cannot advise you on what to buy. I suggest watching for Shop.ca deals on the blog. I recently posted an up to 75% Off Bench deal that would be amazing to combine with $50 off $125 deal. Eva's deal on the Columbia men's Summit Crest Interchange jacket would also be great to add to your cart before receiving an extra $50 off $125. I am hoping for some more great deals just in time for you to take advantage of this Paypal deal.
(Expiry: 8th March 2015)