Nerf N-Strike Combat Creatures Robot Blaster Was $70 | Now $35 & Free Shipping @ Amazon.ca (Expired)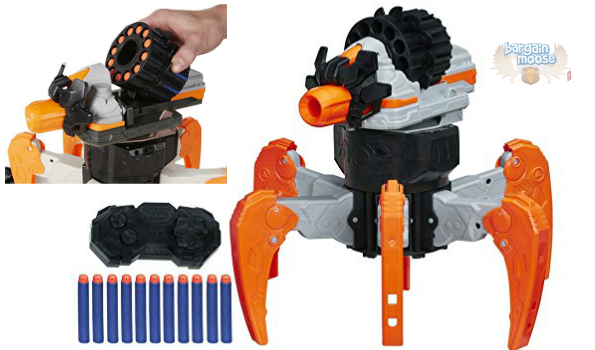 Wow, things just got real with this amazing Nerf N-Strike Combat Creatures Terradrove Blaster. This remote robot is remote controlled and rapid fire. This amazing robot was $69.99 but is now only $34.96. This item qualifies for free super saver shipping as it is over the $25 minimum.
If you have sci-fi fans, Nerf fans, or gadget fans in your house you pretty much need this Nerf N-Strike Combat Creature. This is pretty high up there on the list of amazing toys I should have thought to make. Stash this one away for your kid or your sweetie's birthday, or rip it out of the packaging when it arrives and begin chasing your cat. It is your call.
Included with this toy is one combat creature robot, one wireless remote control and twelve darts. The head on this robot tilts a full 360 degrees to make sure you hit your target. The darts have a rapid-fire mode so you can shoot all twelve Nerf darts in a row without stopping to reload. They suggest this toy is for kids eight years and up, but I bet that some six, seven and 20 year olds would enjoy this toy. We have to have some storm troopers around here somewhere I can shoot with this robot.
I found this Nerf robot at Toys R Us, available at full retail for $79.99. At Sears.ca this toy is currently out of stock, but priced at $48.99. This toy does not seem to be carried currently at any other major retailer in Canada. When you compare the prices available, you are getting a great price from Amazon for this super cool toy.
There is one review on Amazon for this nerf robot, but it's pretty brief just saying it had quick shipping . Toys R Us has a great review on this toy.
This is the coolest toy any of my 5 children have ever had!! Even my 68 year old dad had a blast playing with it Christmas morning!!!!
Still need convincing that this robot will be amazing? Check out a full review of this toy at the Canadian blog Raising My Boys including a video review.
I want to send this robot storming across my living room and find bad guys to shoot. I may just order two so my husband and I can battle it out in the living room. I suspect the cat will be hiding in the basement for a few days after this toy comes in the mail. Grab yours now before they run out of stock. Free super saver shipping sweetens this deal even more.
Bargainmoosers, what enemy would you shoot with this crazy awesome Nerf robot?
(Expiry: Unknown)