Mega Bloks Halo UNSC Pelican Gunship Was $100 Now $50 @ Amazon & Free Shipping! (EXPIRED)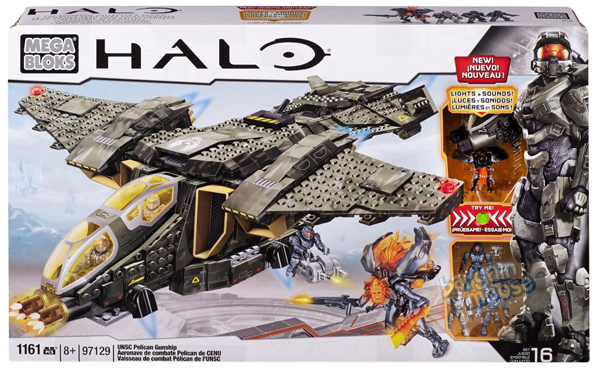 If you're still on the lookout for some toys for kids for Christmas, perhaps your own kids or nieces, nephews, friends of the family, there's a great price on this Mega Bloks set on Amazon today. You can pick up the Mega Bloks Halo UNSC Pelican Gunship, Lights and Sounds at a discount – it was $99.99 and it is now only $50 with free shipping.
Eva noticed here in this post another great Mega Bloks deal, check it out too. This Mega Bloks Halo UNSC Pelican Gunship, Lights and Sounds comes with 1161 pieces (!) and it says it is for children of aged 8 and upwards. It also looks like quite a complicated set with a ton of accessories, such as:
UNSC Troops: Spartan in Operator covert ops, Spartan in Pathfinder covert ops, Spartan in Scout silver. Weapons: Shotgun, DMR, M6D Pistol x2, Binary Rifle, Frag Grenade x2, M6C Socom x2
We're usually LEGO lovers in this house, have been for a while now. But did you know that Mega Bloks are compatible with LEGO bricks? A while ago, my sister sold me a large batch of her LEGO. I expressed concerns that I didn't want any fakes, as I'd heard about difficulties putting bricks together when LEGO fake bricks were involved. She assured me they were all legitimately bought LEGO. But when I opened it up, I looked in depth and I showed her the tiny Mega Bloks logos on many of the bricks. It turns out she'd bought a few Mega Bloks set and just mixed them in with the LEGOs, completely unknowingly.
As for a price comparison on this Halo Mega Bloks set, I've spotted it for $100 at both Best Buy and Future Shop. It also shows as $110 @ The Mega Bloks official site. I can't find this exact set for sale at any of the other major toy retailers, just the previously mentioned stores. Anyway, the price from Amazon is pretty damn great, especially with free shipping. There are some reviews on the Mega Bloks site, such as:
Cool, but I wish that there was a marine. The lights and sounds were a nice addition. Overall, an awesome set.
So what about you? Mega Bloks or LEGO?
(Expiry: unknown)