LEGO DUPLO Creative Play Animals were $15 now only $10 @ Amazon.ca! (EXPIRED)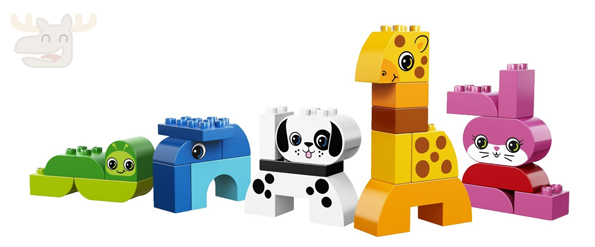 LEGO is one of those brands which we don't often see selling at extremely high percentage discounts. They're a premium brand so we keep our eyes out for deals, and always run a price comparison to see how hot it is before we post on here. That's just what I've done with this set of LEGO DUPLO Creative Play Animals which is currently on offer at Amazon.ca. They were $14.99 but you can grab them for only $10 right now!
As we usually state in our posts from Amazon – if you are a member of Amazon Prime, you will get this item shipped to you at no extra cost. If you don't have prime and you'd like free super saver shipping, then you would have to top your order up to $25 or more to get free shipping.
As I mentioned, I price compared this LEGO Duplo set and it's retailing for $15 everywhere else online. I know it's only a 33% discount on the original price… but LEGO is so costly, I think it's good to take advantage of any type of discount like this. It can be incredibly expensive to build up a good set of LEGO to build with, so every little percentage discount will help.
We've got both LEGO Duplo and the regular LEGO in my house. To be honest, the Duplo doesn't get played with much any more, as the younger child is now over 2 years old. She just wants to be in on the action of the original LEGO as we play with it.
If you have a young child or know someone who does, I think LEGO Duplo makes a superb gift. In fact, I gifted some Duplo to my niece last Christmas, and she loves it. I think that when gifting, buying a brand name like LEGO means you've put a little thought (and money) into the pressie!
(Expires: unknown)