LEGO Chima Flying Phoenix Fire Temple Was $140 | Now $84 + Free Shipping @ Amazon.ca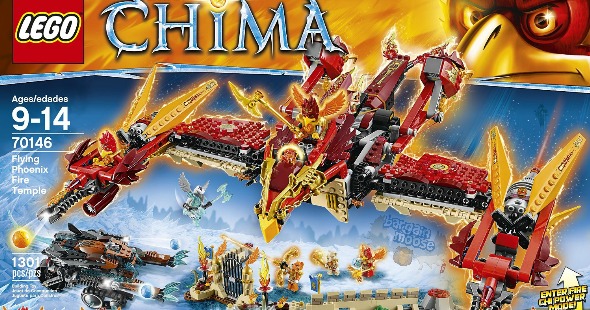 Every boy loves it - LEGO Chima. Sometimes it is hard to find certain sets on sale, and LEGO Chima can get expensive. Right now Amazon.ca has the LEGO Chima Flying Phoenix Fire Temple on sale from $139.99 down to $83.87. This is the lowest price around on this set, and you'll even get free shipping.
LEGO Chima is a fun way to promote imaginative play. This set has lots of 5 star reviews, and I am sure you know why. LEGO Chima is a high quality type of LEGO that can be fun for the entire family. While it can be quite expensive, we keep our eyes peeled for the best deals on this stuff (among other things of course). So you will be happy to know that if you shop at Amazon Canada while supplies last, you can pay just $83.87 for this LEGO Chima Flying Phoenix Fire Temple instead of the original price which was $139.99.
This particular LEGO Chima set includes 7 minifigures and their weapons. The weapons can be pretty small, so if you have younger children you may want to remove these before allowing them to play. The minifigures are:
Fluminox
Flinx
Foltrax
Tormak
Li'Ella
Stealthor
Vroom Vroom
There is even a saber-tooth vehicle with an intriguing clawing function, ball shooter, scary ice fangs and a flyer that detaches. The Phoenix Temple is about six inches high, 17 inches long and 17 inches wide, so it can take up quite a little chunk of space. The included saber-tooth vehicle is about 6 inches high and 8 inches long, so it is not small enough that it could easily get lost. There are 1301 pieces, so it is up to you to keep count, haha. Maybe that is why this set is best suited for children ages 9 through 14. How old are your kiddos that play with LEGO Chima?
I did a little price comparison to ensure that this is the best price around, and it really is. Sears Canada has this LEGO Chima Flying Phoenix Fire Temple for $139.99, but they are sold out. You will find this toy for $139.99 @ BestBuy.ca and ToysRUs.ca as well. Since this item is well above $25, you will even get free shipping on your purchase from Amazon.ca.
(Expiry: Unknown)