Kate Hewko Coupon Code Exclusive: 20% Discount & Free Shipping!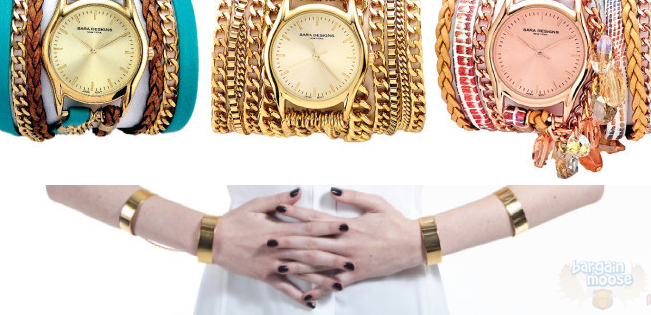 I'd like to introduce you to a new Canadian store for Bargainmoose, we've not mentioned it on here before. Kate Hewko is an online store selling designer fashion watches and jewellery. They've emailed us with an exclusive coupon code, for a 20% discount on any order there! Here is the lowdown:
Click here to use the Kate Hewco coupon code online now
Coupon Code: BARGAINMOOSE
Discount: 20% off anything
Expires: 19th May 2014
The code is only valid for a few days, so if you click through and see anything you like, consider using the coupon code sooner rather than later.
A new watch is something that I've been considering in the last few weeks. I just use a little cheap digital watch, it's nothing fancy. I like it because I can hit the light button in the middle of the night to see what time it is! But there are some stunning watches on the Kate Hewko site. I'll say this though, they're not cheap.  I have fallen in love with this Sara Designs brass chain wrap watch which is priced at $375 but would drop to $300 when you apply the coupon code. I think it's stunning because it's obviously functional as a watch, but also doubles as a really lovely bracelet, to jazz up your arm on a night out.
On browsing the Kate Hewko site, I saw a heading for handpieces, and I had no idea what these were so had to click through for a nosey. This Lionette song sisters handpiece is $485 (or $388 with coupon). Isn't this an amazing piece of work? I cannot imagine wearing this one myself, but I am sure there are some trendy folk who could pull it off.
If you're enamoured with necklaces, check out the cut of this Vanessa Mooney Sheba necklace which is $375 ($300 with coupon). As soon as I saw it, I instantly thought of Egyptian priestesses or princesses, it gave me that vibe. I guess with the name "Sheba" in the title, that's the look that the designer is trying to achieve.
Remember, everything on the Kate Hewko site comes with free Canadian shipping.