Jacob Canada: Extra 50% Off Sale Merchandise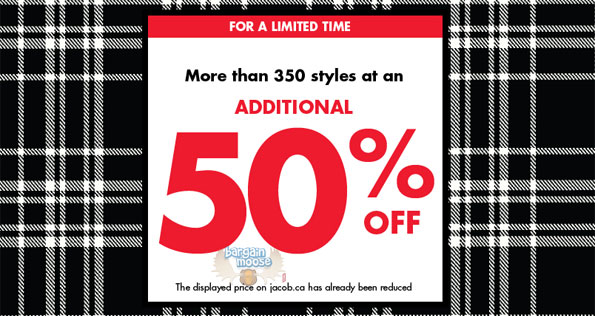 Jacob Canada is offering an extra 50% off select sale styles for a limited time only, with total discounts as high as up to 70% off!
From everyday to office wear, Jacob has a pretty awesome collection of nice clothes for either occasion. I actually discovered them a couple of years back when frantically searching for an interview outfit and have been shopping there ever since simply because their clothes look and feel great. Though at the time I paid full price for all the clothes that I bought, now I only shop Jacob's sales.
Below is a list I quickly put together of some of the bigger savings you can get during Jacob's newest promotion:
If you are still in the dark as to the perfect gift for a certain someone in your life, then that crochet infinity scarf could definitely make for a worthy gift, especially for its sale price of just $14.95. You could even go a step further by taking advantage Jessica's Christmas gift wrapping idea to reuse fabric or clothing by using this this scarf: two gifts in one!
If this is your first time shopping at Jacob's online store, then be sure to grab this coupon from our Jacob coupon codes page for an additional $20 off all purchases over $100. Shipping is also absolutely free on all orders over $50.
(Limited Time Only)