HS Sweden: Free Underwear (Up to $24 Value) with $25+ Purchase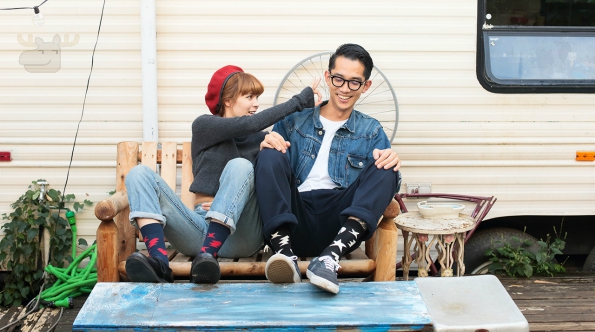 I am really excited about this new HS Sweden promotion! Right now, they are offering a free pair of underwear with any purchase of $25 or more on their website. As women's underwear retail for $14 and men's underwear retail for $24, this freebie has a value up to $24. Since you only have to spend $25 in order to receive your free underwear, I figured this is a great deal.
You need to add the pair of underwear to your cart and then they will be automatically discounted at checkout. I loaded up my cart with sale socks and then added in a pair of men's underwear for the freebie.
First, I picked out these Leopard socks on sale from $14 down to $9.80. I have been in the 'fall mode' of covering up a bit more so my next purchase was the Small Dot Knee High socks on sale from $22 down to $15.40. Between those two pairs of socks I saved 30% and my cart now totalled $25.20. I added the Men's Big Dot Boxer Brief to my cart as I love all things dots and these look great in a purple/white colour combo. They are also valued at $24 - so I just saved $24 on top of the 30% off the socks above (which was $4.20 + $6.60 = $10.80 saved on socks).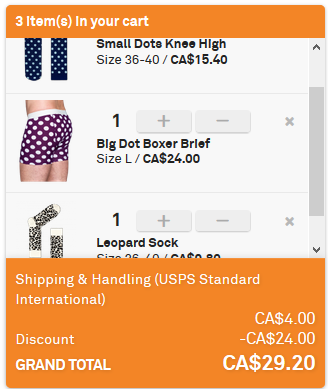 If you want, you can reach the $50 minimum for free shipping at HS Sweden Canada. Orders under that are charged a mere $4 for shipping. As I just saved $10.80 on socks and $24 on underwear for a grand total of $34.80 saved... I think I can spend the extra $4 for shipping at this level.
I love this deal because you are saving pretty much more than you spend if you shop outlet socks and get a free pair of underwear. HS Sweden usually has a max of 30% off, sometimes 40% off these days... so this kind of promo is nice where the value is so high.
Have you tried HS Sweden underwear yet? I have to confess that while I own nearly 100 pairs of their socks, I have yet to purchase a pair of their underwear. I would love to hear what you think of them.
(Expiry: Unknown)